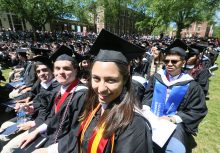 Wheaton College celebrated its 182nd Commencement on Saturday, May 20, 2017 with family, friends, faculty, staff and alumni gathered on the Dimple to send off the Class of 2017.
Tom Sanderson, an international security analyst and expert in terrorism and an alumnus of the Class of 1992, delivered the keynote address, drawing on the lessons he learned at Wheaton as well as the fascinating experiences he has had during his career, which includes travel to more than 70 countries.
Sanderson received an honorary degree during the ceremony, as did businessman, author and art collector Russell L. Goings and entrepreneur and women's equality advocate Susan Schiffer Stautberg '67. Goings was unable to attend Commencement, but Stautberg was in attendance and delivered a message to the graduates as well.
Related Links