May 21, 2016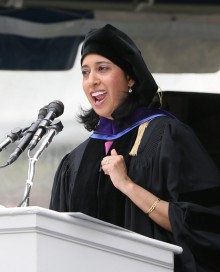 Every person deserves to be heard. You, Sunila Thomas George, uphold that principle by helping to amplify the voices of some of the state's most vulnerable citizens and ensuring that all Massachusetts residents receive equal treatment under the law.
After graduating from Wheaton and then from Western New England University School of Law, you found your place at the Massachusetts Commission Against Discrimination, where for nearly two decades you have worked as a champion of civil rights. After progressing through various roles at the agency, you are now serving your fourth term as commissioner, having been appointed by two separate Massachusetts governors from two different political parties.
You share your commitment to equality, and your knowledge, beyond the commission as an educator. Teaching at Suffolk University Law School and for the Massachusetts Continuing Legal Education program, you are creating a better understanding of disability law and other important topics among members of the legal community. A respected voice in your field, you are a frequent guest speaker with many local and state bar associations, and you serve on the advisory board for the South Asian Bar Association of Greater Boston.
Your work has not gone unnoticed—among other awards, you have received the prestigious Manuel Carballo Governor's Award for Excellence in Public Service, and the Executive Branch Award for Excellence in Government Legal Services.
For all of these achievements—for the people you represent and the work you do daily on behalf of all of us—Sunila Thomas George, we present you with this honorary Doctor of Laws.
Related Links