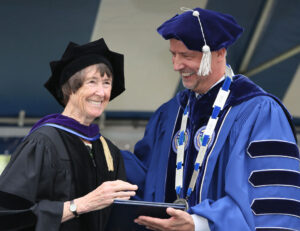 May 21, 2016
SUKEY NICHOLS WAGNER:
You can imagine how long it would take me to tell you all the tales of what's happened in the last 60 years. But I will only say this instead…
A path will open for you, and you don't see it coming, and it's quirky and it's scary. And you think, 'hmm.'
Well I tell you, put your foot on that path and go with it. You will have a chance to work for an idea, or a person, or an institution, and donate to something you really care about.
So I say to you, good travels, good luck, and congratulations to the Class of sweet '16.
Read Sukey's honorary degree citation
Related Links