May 21, 2016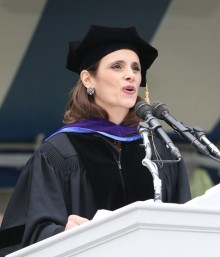 LIGIA BONETTI DU-BREIL:
Good morning, everyone. I would like to thank President Hanno, Henrietta Gates and the Board of Trustees of Wheaton College for granting me this tremendous honor, which I humbly accept.
I had the great opportunity to come to Wheaton just a few weeks ago to participate in the spring speaker series event and had the wonderful chance to visit campus and also meet with some faculty and seniors from the business major. I couldn't believe 27 years had gone by since my graduation. That is a long time. And as I walked around, I felt the enchantment and the peacefulness that captivated me from Wheaton so many years ago.
During my visit, a business student asked me if I thought Wheaton had prepared me to face the challenges in the financial and business world. As I searched rapidly for the answer, I realized that it was right there in front of me in the last pages of the speech I was to give that afternoon. I had said: Wheaton allows you to develop the foundations for building an independent, strong character. It helps you raise self-confidence and self-awareness, as well as encouraging the fearlessness to have a voice and speak up. But most importantly, in my case, Wheaton reassured me the importance of taking risks and making choices. And believe me when I tell you, life is all about making choices—the right choices, hopefully, but definitely having the audacity to make choices.
So my answer was yes, Wheaton did prepare me to face the challenges with courage and the opportunities with resilience. Although I can't deny that I have been fortunate enough to have more than most in many aspects of my life, the day I left Wheaton I made a commitment to not take for granted these blessings and work hard to influence and lead with responsibility to not only prosper in business, but also have a positive impact in the community and the environment in which I lived.
As I look around, I see bright, creative, ambitious change-makers who are not only prepared to move forward and conquer your ideals but a group that will proudly represent the values that embrace this school, and ones that have absorbed, just like me, the energy to see beyond the obstacles in your individual journeys toward success, remembering always that success is not a goal on its own. It is a result of the commitment to persevere against all odds, to believe beyond a doubt that what you do will not only push you to the top, but will set the pace for others to follow. And that integrity and uprightness will be the enduring strength to reach your dreams.
I will tell you what I wish this honor to mean to my children and to all of you sitting here anxiously waiting for me to finish. I want you all to remember that you will always have a choice to walk away from a difficult situation. Powerful excuses will push you toward minding your own business and letting others handle the problem. It will always be easier to regret or criticize from a distance than to do something and get involved. So when those forces pull you away from daring, from leading, and from speaking up, remember this day, which symbolizes the choices we make every day and the many times we dare to lead responsibly by voicing out our thoughts.
I never expected to be distinguished, but it will only reinforce and strengthen my will and determination to give my very best.
Congratulations, Class of 2016. Make us proud. Enjoy the ride. Thank you very much.
Read Ligia's honorary degree citation
Related Links