May 21, 2016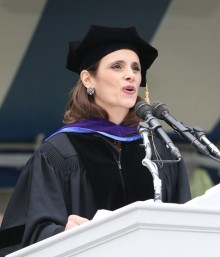 Success in the business world is about more than the bottom line. You, Ligia Bonetti Du-Breil, are a shining example of the impact that company leaders can have, serving on numerous organizations that promote social and economic causes while managing a multi-million-dollar family business.
After graduating from Wheaton with a degree in economics, you worked in banking in New York City before joining the family business, the SID Group, back in your native Dominican Republic. There, you have held many positions, on your way to becoming executive president and CEO last year. In addition, you have been active in many organizations that contribute to economic and institutional reforms, including the Advisory Council for the President of the Dominican Republic, the National Association of Young Entrepreneurs, the National Council of Private Enterprise and the Institutional Justice Foundation, among others.
The significance of your contributions to creating a better world has won many honors, including being named Woman of the Year by the Dominican Congress and distinguished as a Dame by the Sovereign Order of Malta—an organization that runs medical, social and humanitarian projects around the world. You also have been named one of the top 100 entrepreneurs in Latin America, and in 2015 you were listed by Forbes Magazine as one of the most powerful and influential female leaders in the Dominican Republic.
In recognition of all that you have accomplished, and all that is likely still to come, Ligia Bonetti Du-Breil, we present you today with this honorary Doctor of Laws.
Related Links