May 21, 2016
FAITH NONDUMISO KHANYILE: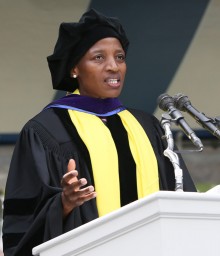 Well, as I said last night, actually when I first received a call from President Hanno, I thought it was a scam. And I guess today it's sort of like it's sinking in.
Good morning, ladies and gentlemen. As I said, I would really like to thank the Board of Trustees and President Hanno for this prestigious recognition. You can see that I am beyond excitement and a little bit nervous as I stand in front of you today to receive this award from the Wheaton community.
I am also humbled by this recognition, and I actually want to dedicate it to the rural women of Africa who work tirelessly to uplift their families and communities and, in most cases, receive no or little recognition.
My life at Wheaton College taught me a lot about the importance of effecting change and giving back to society. As I left Wheaton 25 years ago, armed with an honors degree in economics, I began searching for ways to effect change. And I must say, I actually have not been back to Wheaton, you know, 25 years later, and I am sort of like beyond words to see what has happened here and I am really, really honored.
As I returned to South Africa in 1994, to a free and democratic country, I met these strong, determined, selfless women who, after returning from political exile in 1990, had formed Women's Development Bank, a not-for-profit company. The current vision of WDB is the alleviation of poverty in rural South Africa, thereby restoring human dignity and giving hope to millions of people, marginalized by poverty.
Once I was busy building my career in finance, I worked with this organization—after-hours, actually—and in 1996, using my finance and business skills, I helped them to establish their development. Twenty-five years later, the microfinance program has provided loans and training to hundreds of thousands of female entrepreneurs, thereby impacting their lives and their communities.
To the Class of 2016, I ask you guys to dream big. I think it is most important that each and every one of you try to find your purpose in life. I believe that the biggest gift that I have been able to receive and share is my passion and energy to make a difference wherever I am. I know this is not an easy journey, as it involves constant introspection, and also asking yourself why are you on Earth? But at the end, I believe that having a purpose results in a life that is fulfilled and meaningful.
Just to quote Nelson Mandela, the greatest statesman that ever lived, "It always seems impossible until it's done."
So just lastly, I would like to thank my family—my husband is here; he has been the strength of my support. I would like to again congratulate the Class of 2016. And I would like to say to you guys: Go out there and get them.
Read Faith's honorary degree citation
Related Links