May 17, 2014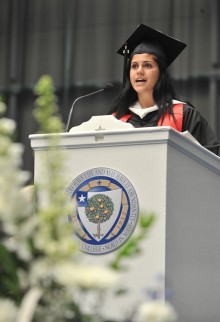 Delivered by Ashley Vertente, President of the Class of 2014
Welcome parents, family, faculty, staff, alumni, current students and, of course, the Class of 2014. First, I would like to congratulate my class, the Class of 2014, on a successful four years to add to a lifelong journey. I could not be happier for all of us here today.
And to President Crutcher and his wife, Betty Crutcher, who leave us this year. After 10 long and devoted years to our institution, thank you for all that you have done. On behalf of the senior class, I would like to present to President Crutcher and his wife the thank you notes we have written to acknowledge their love and support from all of us at Wheaton.
Class of 2014, today marks one of the biggest milestones in our lives. We have accomplished so much individually and collaboratively. You have noticed the book on each of your chairs, "Five People You Meet in Heaven" by Mitch Alboum. Please accept this gift on behalf of your fellow class officers and myself. Take the time to read it and own it, as there is a very important message within it. It teaches life lessons about love, forgiveness and sacrifices, that there is always a purpose for your life, and that everything ultimately happens for a reason. No matter how small a relationship you built with someone, just know that you have changed his or her life forever. All the relationships we have made with friends, professors and mentors are important relationships. Do not take them for granted.
Your teammates and coaches who have helped bring you to NAA tournaments, the professor who encouraged and helped you to achieve goals by obtaining a job or being accepted to graduate school, law school or medical school—these are the people you thank today and remember for the rest of your life. Take the time to thank your parents, grandparents and loved ones, especially those who join us today, the ones who urged you to chase after your dreams and to stop at nothing. I know I wouldn't be here today without the love and support of my mom and dad.
In regards to your future, become the best you that you can be. Be you, be happy, embrace your imperfections. Love what you do. Have a positive impact on the lives before you, and reach out with a helping hand no matter who it is. And never pass judgment because you never know what life the person has dealt with. Strangers are family you have not recognized yet.
Congratulations, Class of 2014. We did it!
Related Links