May 18, 2013
Doctor of Humane Letters
You break new ground, both figuratively and literally, Patricia Flaherty. By advocating for affordable housing in the same community in which you reside, you have demonstrated that how you live is just as important as where.
You established a base in historic Mission Hill, a neighborhood of Boston, which like other urban areas, struggles with issues of economic development and stabilization.
As a senior project manager for a nonprofit housing organization, you successfully secured $6.2 million in funds for a rental development for low-income senior citizens. With nearly 30 years of community planning experience, your efforts have set the building blocks on which others may stand.
You have been described as passionate, eloquent and tireless in your dedication. You re-established one of the most successful neighborhood races in the city of Boston—the annual Mission Hill Road Race, which succeeded in raising almost $30,000 last year for the local park. For this and other projects that you have managed, you are recognized as a pillar in your community.
Wheaton has long known of your exceptional abilities. With the highest average in your class and summa cum laude honors, you were elected into the Phi Beta Kappa Society. Just three years out of college, you were listed in an article called "Fifty Wheaton Women to Watch." And last year, you were chosen as one of the Commonwealth's "Unsung Heroines." We are happy to join your neighbors and fellow citizens in singing your praises today.
Patricia Flaherty, it is with great pleasure that we present you with this honorary degree, Doctor of Humane Letters, in acknowledgement and appreciation of your exemplary achievements.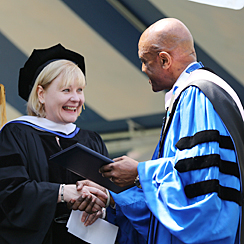 Related Links