May 18, 2013
Doctor of Humane Letters
The Talmud teaches us that "loving kindness is greater than laws." You, Diane Leshefsky Troderman '63, demonstrate the power of that philosophy every day, in your efforts to promote education, equality and Jewish culture here in the U.S. and around the world.
With your husband, Harold Grinspoon, you established a charitable foundation that fuels hope and changes lives of people around the world, including here at Wheaton. Your generosity is personal, participatory, and activist. You embrace the causes to which you are committed, trebling the value of your philanthropy with your insight and energy. Your involvement has taken you from the neighborhoods and schools of Western Massachusetts to Israel, the Soviet Union, Ethiopia and Rwanda.
Your mission to empower others also brings you regularly to this campus. You first came here as a scholarship student majoring in biology. When you visit now, it is as a member of the President's Commission to offer counsel to the college's leaders and as a mentor to current students, providing valuable perspectives as well as connections to a host of organizations.
"I like to catch peoples' dreams and help them," you have said. Numerous awards testify to your success, including the national Kipnis-Wilson/Friedman Award from the Jewish Federations of North America and Philanthropist of the Year from the National Society of Fundraising Executives.
Members of this community, and so many others, can attest to the doors you open with your generosity and your commitment to making a difference, Diane Leshefsky Troderman. It is with deep admiration that we present you with the honorary degree Doctor of Humane Letters.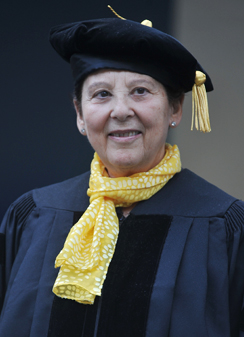 Related Links