Shaya Gregory Poku
Director of the Center for Social Justice and Community Impact (She/Her/Hers)
Shaya serves as a leader in the Division of Student Affairs and on campus in creating, implementing and shepherding programs and strategic initiatives related to diversity and inclusion. She has particularly been charged with providing students with the opportunity, training, space, and resources to explore the many ways to have an impact on the world locally and globally.

A certified mediator through the Program on Negotiation at Harvard Law School, she brings to Wheaton twelve years of experience promoting understanding among people with disparate backgrounds and advancing equity in domestic and international contexts. Prior to Wheaton, Shaya directed the Social Justice Resource Center at Northeastern University. There, she gained a distinguished record of pioneering cross-departmental efforts to bolster students' critical thinking and self-knowledge. Poku has also worked in the non-profit sector. This included work with an international non-profit organization to develop programs across Sub-Saharan Africa and in the U.S. to advance the rights of historically marginalized and underserved groups. 

Shaya holds a Master of Arts Degree in Intercultural Relations with a concentration in Intercultural Conflict Management from Lesley University and a Bachelor of Arts Degree in International Relations from Agnes Scott College. She also holds a Master of Science in Security and Resilience Studies from Northeastern University.
To reach Shaya, call 508-286-3375 or email poku_shaya@wheatoncollege.edu. She hopes to hear from you!
Cassie Peltola '14
Assistant Director of Community Service and Engagement (She/Her/Hers)
Cassie Peltola '14 works in the Center for Social Justice and Community Impact at Wheaton College as the Assistant Director of Community Service and Engagement. Cassie will be responsible for continuing the organization of community service and engagement opportunities for and with students while maintaining and strengthening relationships with local community partners.
In the past, Cassie has  as a MACC AmeriCorps*VISTA on Wheaton's campus where she education-related community service opportunities by working closely with the Norton Public Schools. Through Cassie's role as a VISTA through Massachusetts Campus Compact, a nonprofit coalition recognized as a national leader in civic engagement and service learning, Cassie has had the opportunity to attend numerous conferences and professional development trainings in the field of civic engagement and community service in higher education.
To reach Cassie, call 508-286-3370 or email peltola_cassandra@wheatoncollege.edu. Her open office hours are on Fridays from 10 am – 12 pm.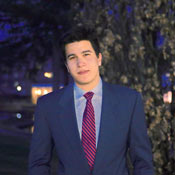 Alex Gim-Fain '17
First Generation Program Development VISTA (He/Him/His) 
Alex Gim-Fain '17 serves as the First Generation Program Development VISTA for the Center for Social Justice and Community Impact. Alex supports Wheaton's first generation college students through the development and coordination of a peer cohort of first generation students that integrates peer tutoring, mentoring, and leadership programming. In his year of work he hopes to help build a proud and supportive community of confident student leaders who self identify as first generation students.
If you are a first generation student interested in becoming involved, or seeking support, please feel free to contact Alex with questions or comments.
Phone: (508) 286-3689
Email: gim-fain_alexander@wheatoncollege.edu
Dr. Jordan E. Miller
Interfaith and Activist Chaplain and Coordinator of the Center for Religious and Spiritual Life (He/Him/His) 
Dr. Jordan E. Miller is the Interfaith and Activist Chaplain and the Coordinator of the Center for Religious and Spiritual Life. He is an interdisciplinary teacher and scholar who specializes in religion, social movements, and political resistance. He has a Ph.D. in humanities from Salve Regina University in Rhode Island and an M.A. in philosophy of religion from Boston University.
Dr. Miller leads weekly meditation sessions and dissent devotionals. Recently, Dr. Miller has taught courses on the Black Lives Matter movement, Islam and politics, and mysticism and spirituality.
Dr. Miller is currently preparing a number of manuscripts for publication and conference presentations including his first monograph, Furious Hope, Resisting Theology which includes chapters on The AIDS Coalition to Unleash Power (ACT UP), Occupy Wall Street, the First Nations environmentalist group, Idle No More, and Black Lives Matter. He is the co-editor with Christopher D. Rodkey of The Palgrave Handbook of Radical Theology; a reference volume currently under contract with contributions from 70 scholars. He is also writing an accessible introduction to the concept of capitalism as a moral system, co-authored with Hollis Phelps.