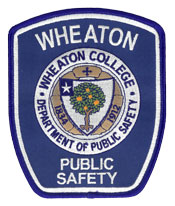 The Public Safety Department, whose administrative office is located at 30 Taunton Avenue (Route 140), handles matters related to parking, lost and found, identification cards and the general safety of the Wheaton campus community.
Public Safety officers receive extensive training in law, crisis management, crime prevention, investigative procedures, fire safety and other security issues. They are empowered as special state police officers in accordance with the provisions of Chapter 22C, Section 63 of the Massachusetts General Laws. Officers have the same power to make arrests as municipal police officers for any criminal offense committed in or upon lands or structures owned, used or occupied by Wheaton College.
All officers are trained in CPR, first aid procedures, as well as fire and emergency medical services. The department conducts various safety educational classes and specially trained instructors conduct the Rape Aggression Defense (RAD) program.
The Public Safety Department patrols campus 24 hours a day, 365 days a year to provide a safe environment for the Wheaton College community.
Annual Security Report and Campus Fire Safety Report
Federal law (The Clery Act) requires educational institutions publish annual reports about criminal activity and provide crime and safety education programs.
Public Safety Department Annual Security Report and Campus Fire Safety Report (Downloadable PDF).
Calling Public Safety
Emergency from campus phone: x3333
Emergency from off campus or cell phone: 508-286-3333
Business: 508-286-8213 or x8213
Anonymous Tip Line: 508-286-5700
Additional information about the Public Safety Department can be found on insideWheaton.