To enable clearing campus roads, paths and parking lots as quickly as possible, parking restrictions will be put in place when necessary. The restrictions don't apply to faculty or staff.
Any vehicle parked in closed lots, and that hampers emergency snow removal efforts, may be towed to an off-campus location, at the owner's expense.
Please note that when the college is open, faculty and staff are allowed to park in faculty and staff lots. If the college is closed due to weather, the parking ban applies to everyone.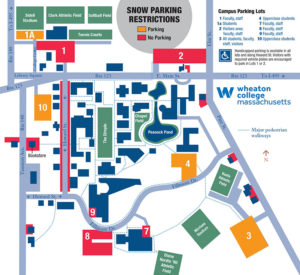 Students should make sure that vehicles are parked in one of the following lots (click on the map to see the areas):
Lot 1A, which is adjacent to the baseball stadium only
Lot 3, which is accessed from Pine Street
Lot 4, located off Fillmore Drive at the Meadows complex
Lot 10, behind the post office
The lots that are closed include:

Lot 1 (Faculty/Staff lot in front of and across from the Clark Recreation Center, Nursery School and 4 Clark Rec Drive / Guest House)
Lot 2 (Faculty/Staff/visitor section in lot along East Main Street, opposite YMC)
Lot 7 (Faculty/Staff lot to left of Haas Athletic Center)
Lot 8 (Faculty/Staff lot to right of Haas Athletic Center)
Lot 9 (Faculty/Staff lot adjacent to Science Center loading dock)
Lyons Den lot and the Bookstore Lot
Parking areas located at Bittersweet, Lindens and Elms Dorms, 5/7 Pine Street, 46/48 East Main Street, 7&9 Howard Street, 42 Howard Street, 44 Howard Street, 20 Taunton Avenue, 26/28 Taunton Avenue, 34 Taunton Avenue and 9 Taunton Avenue
All vehicles parked along Howard Street should be moved to one of the open parking lots.
If there are any problems or safety issues, please contact Public Safety at 508-286-8213 or 508-285-5051.