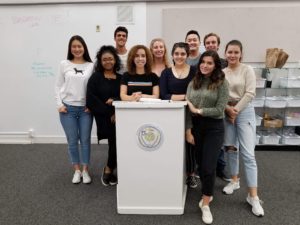 SAA Exec for the 2018-19 Academic Year
Student Alumni Association
Chair, Gracie Callaghan, Class of 2019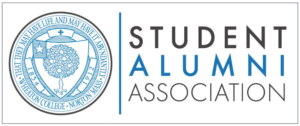 The Student Alumni Association at Wheaton College plays a key role as a liaison between the students and the Wheaton Alumni.  The Student Alumni Association works to achieve this through hosting events ranging from social networking opportunities to service work with Alumni, and on-campus career panels. Through the Student Alumni Association events, current students can explore the resources available to them and take advantage of the opportunities to create long-lasting relationships.
Mission Statement:
The mission of the Student Alumni Association at Wheaton College is to create an association that serves as a platform for Wheaton students and Alumni to connect. We would like to become a group of students that enhance the student experience at Wheaton. This direct work would give Wheaton alumni the opportunity to stay involved with their alma mater and this involvement gives Wheaton students the opportunity to connect with "successful and inspiring individuals."
Student Alumni Association Request Form:
If your club/organization is inviting alumni on your own please submit your application four weeks in advance. Please review the SAA Funding Request Form. If you need assistance please email the SAA Chair Gracie Callaghan or our advisor in the Alumni Relations Office, Marco Barbone.
Student Alumni Association Events:
September: Pizza and Mingle with SAA and the Alumni Relations Office
October: Fall Fest Tailgate with the Alumni Relations Office Co-Sponsored SAA
November: Holiday Food Drive for Cupboard of Kindness (local food pantry)
December: Show Up and Support Wheaton Blue!
January:  Booz and Bands – SAA Welcome Back Event!