The GATRA Route 140 schedule is a campus favorite. Board the bus at Wheaton's slype and travel to the Great Woods Marketplace which contains shops such as:
Mansfield Crossing
Dollar Tree
Hair's Boston Family Salon
Dunkin' Donuts
Continue the route through the town of Norton and Mansfield – ask to be dropped off anywhere! Alberto's, Subway, Emma's and Xfinity Center are some hot spots. Finish the route at downtown Mansfield where you can find various shops, restaurants, and the train station.   Problems or concerns about the GATRA, submit them here.
Route 140 – Mansfield – Norton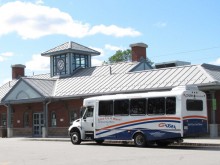 Schedule (pdf)
 To get picked up, passengers may wave their hands in order to signal the bus driver to pull over; you can then board a bus in any safe location along the bus route.