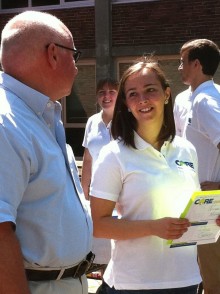 We recognize that some members of the incoming class will be unable to attend CORE June. Fortunately, we offer another opportunity to meet with advisors and choose courses for the fall: EnCORE.
EnCORE is a one day program is a half-day experience for new students that will give you the chance to speak with advisors, learn more about the Wheaton curriculum and register for courses. We will have student leaders and Academic Advising deans on site to guide new students in course selection.
Typically scheduled on a Friday in late June, registration for this program will open after the registration for CORE programs is full.  Space for this program is very limited.
Please see below for a sample schedule from our 2018 Program.
---
EnCORE 2018
June 22, 2018
9 a.m.
Check-in
Lobby, Science Center 
9:15 a.m. – 9:40 a.m.
Welcome
Hindle Auditorium, Science Center
9:45 a.m. – 10:15 a.m.
EnCORE Team Meeting
You will meet with CORE Leaders & New Students
10:30 a.m.
Understanding the Wheaton Curriculum
Hindle Auditorium, Science Center
10:00 a.m. – 1:00 p.m.
Hospitality & Lunch
A gathering and waiting place for students and families while advising appointments and registration is happening throughout the day.
11:45 a.m. – 2:30 p.m.
Students: Individual advising appointments and registration
It is recommended that only students who are in the area attend this program. If you are not in the area, no need to travel. If you cannot attend, we will contact you via phone or email to arrange advising appointments immediately following this program or you can call Academic Advising at 508-286-8215. During this appointment we will help you with course selection for the fall semester and you will have an opportunity to ask questions. Know that you will not be at a disadvantage in terms of course availability as seats in all classes are divided by the advising and registration opportunities available for new students.