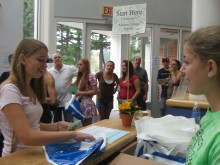 Office Contacts
The following information is meant to help you answer questions that you may have between now and your arrival to Wheaton. Feel free to contact these offices directly.
Office of Admission
Questions about merit scholarships and submitting your final high school transcript
Contact: admission@wheatoncollege.edu
ph: 508-286-8251, fax: 508-286-8271
Campus Mail Services
Questions about your Wheaton mailbox and about shipping items to Wheaton in advance of your arrival
Contact: Fran Weldon, Supervisor
postoffice@wheatoncollege.edu
ph: 580-286-3824, fax: 508-286-3830
Center for Global Education
Questions about I-20 student visa form, visa application (non-US citizens only), and arrival and transportation to Wheaton for international student pre-orientation
Contact: globaled@wheatoncollege.edu
ph: 508-286-4950
Counseling Center
Questions about counseling services available on campus
Call ph:508-286-3905, fax: 508-286-8264
Filene Center for Academic Advising and Career Services
Questions regarding course selection, summer reading, First-Year Seminar selections, disability services, AP/IB/A-Level and other forms of advanced standing credit
Contact: advising@wheatoncollege.edu
phone: 508-286-8215, fax: 508-286-5621
Student Health Services
Questions about required immunizations, health forms, health insurance and medical care available on campus
Contact: Cynthia Maricle, Student Health Services Coordinator
maricle_cynthia@wheatoncollege.edu
ph: 508-286-8210
Marshall Center for Intercultural Learning
Questions regarding the Intercultural Pre-Orientation program
Contact: Raquel Ramos, Associate Dean
ramos_raquel@wheatoncollege.edu
ph: 508-286-3534, fax: 508-286-3545
Office of the Registrar
Questions about transfer credit evaluation
Contact: Liz Ziroli, Associate Registrar
ziroli_liz@wheatoncollege.edu
ph: 508-286-3856, fax: 508-286-8276
Office of Residential Life
Questions regarding housing questionnaires and roommate assignments
Contact: Residential Life
reslife@wheatoncollege.edu
ph: 508-286-8214, fax: 508-286-3870
Office of Student Activities, Involvement, and Leadership (SAIL)
Questions about CORE (Campus Orientation and Registration Experience
sail@wheatoncollege.edu
ph: 508-286-8222, fax: 508-286-3870
Office of Student Financial Services
Questions about billing, payments, need-based financial aid, loans and on-campus employment
Contact: sfs@wheatoncollege.edu
ph: 508-286-8232, fax: 508-286-3787
Technology Support
Questions regarding Computing@Wheaton (your Wheaton email account, Wheaton ID, password, and access to insideWheaton), tech support, computer and software sales
Contact: support@wheatoncollege.edu
ph: 508-286-3900, fax: 508-286-5622
(From campus phones, dial the last four digits to connect with offices.)
Important note:
New students will receive most communication from the College on their Wheaton email. Make sure to set it up and check your insideWheaton account! Newly enrolled students will receive information to set-up their Wheaton email via their personal email used during the application process. This will happen approximately a week following their deposit to the college beginning in mid-April.