The Wheaton Travel program offers group travel opportunities with an educational component designed specifically for Wheaton community members.  All trips are led by Wheaton faulty, which provides one-of-a kind travel and learning opportunities.
Wheaton in the Himalayas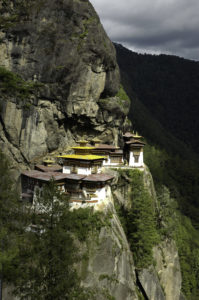 The group for the tour, which will run from September 25 through October 5, 2018, will be kept intentionally small (approximately 14 people, plus guide) to ensure a high-quality experience with plenty of opportunity for personal interactions with the guide and other guests. Participants should enjoy traveling with a group, and be physically active and ready to enjoy the many cultural differences. Being in the Himalayas means that we will be touring at high elevations. Bhutan's capital city, which will serve as a base for our travels, is located in a narrow valley at an elevation of 7,500 feet above sea level. Our excursions will take us to elevations above 10,000 feet. On most days, we will walk several miles over uneven terrain, navigating rocky paths and stairs without hand railings. All participants should be in good physical health. If you are unsure about your ability to participate, please bring our sample itinerary to your physician to discuss whether this program is appropriate for you. Download the full trip brochure (pdf).
Trip Highlights
Our 11-day excursion, which is being offered exclusively to the Wheaton community, will include visits to the country's most famous sites, from the legendary "Tiger's Nest" monastery to a high-altitude glacial valley that is home to the endangered black-necked crane. The trip also will include traditional Bhutanese arts presentations and cultural performances as well as fine dining and 4-star accommodations.
Wheaton Faculty Leader
Bruce Owens, associate professor and chair of the anthropology department, earned his Ph.D. in anthropology from Columbia University. His geographic interest is South Asia, particularly the Himalayas, and he has done fieldwork in Nepal over the past 35 years. His research focuses on religious festivities and sacred sites; Bhutan is justly famous for both.
At Wheaton, in addition to teaching courses on South Asia and the Himalayas, he has taught introductory courses in cultural anthropology and human evolution as well as anthropological theory, psychological anthropology, festivity, and the anthropology of art. Professor Owens co-led the first Wheaton student trip to Bhutan in 2006, and he has been a co-coordinator of the Wheaton-Royal Thimphu College Partnership since its inception in 2009. Professor Owens served as the resident director of the
Trip Details
Duration: 11 days
Activity Level: Strenuous
Cost: $5,499 per person, based on double occupancy
Single Supplement: $6,999 per person (limited availablity)
Deposit: $1000 per person, payable to Wheaton College, non-refundable
Price does not include: Airfare from/to home; passport and visa fees; all airport fees and departure taxes; cost of personal trip cancellation and baggage insurance; transportation of excess baggage; meals other than those listed in the itinerary; personal tips; items of a personal nature, such as laundry; alcoholic or other beverages, except as noted above; taxi, telephone, and fax charges; optional excursions or deviations from scheduled tour.
Itinerary
Day 1. Arrive in Kathmandu, Nepal on Tuesday, September 25, 2018. We will gather for an overview of the trip, a reception to get to know each other and optional tour led by Prof. Owens.
Day 2. We will spend our first full day getting acclimated to higher altitudes and exploring Kathmandu's historic and sacred sites.
Day 3. We depart for Bhutan, landing in Thimpu. We will visit the national Memorial Chorten at Thimpu and the Tashichho Dzong, a fortress monastery housing His Majesty's office, government offices and the Central Monastic Body.
Day 4. On our first full day in Bhutan, we will visit Zorig Chusum, the National Institute for Traditional Arts, to attend a program on the country's 13 traditional arts, including wood carving and clay sculpture. We will make our way to the Royal Thimpu College, Wheaton's partner institution and the site of our study abroad program in Bhutan. While there, we will meet and have tea with Wheaton students currently in residence.
Day 5. We travel north to hike to the Tango monastery, followed by a picnic lunch, then visit Changankha Lhakhang, Thimphu's oldest temple, which affords wonderful views of the valley, and then sample local farmers' and crafts markets on the banks of the Thimphu River below.
Day 6. We will visit the Punakha district, and weather permitting, enjoy panoramic views of the eastern Himalayan mountain range with several mountains above 7,000 m, including the highest unclimbed peak in the world (Mt. Gangkar Punsum at 7,570 m / 24,835 ft). We also will hike through Yuwokha village and nearby rice paddies to Chhimi Lhakhang, a temple dedicated to the 14th century Buddhist saint Drukpa Kuenley,
Day 7. We are off to the high-altitude glacial Phobjikha Valley, which is home to the Gangtey Monastery and the Black Necked Crane Centre, a winter habitat for the endangered blacknecked crane.
Day 8. We return to Thimphu. You will be free to explore on your own before the group reconvenes for an authentic Bhutanese cultural program and dinner.
Day 9. We visit a trio of important historical and cultural sites in the Paro District: the Rinpung Dzong, a fortress built in the mid 1600's by the founder of Bhutan, Zhabdrung Ngawang Namgyal; Ta Dzong, an ancient watch tower housing the National Museum of Bhutan; and Kyichu Lhakhang, the earliest Buddhist temple built in Bhutan (circa the 7th century).
Day 10. In many ways, the highlight of a trip to Bhutan is the five-hour trek to and from Taktsang, an iconic monastery perched on the cliffs of the upper Paro Valley. Known as the Tiger's Nest, this Holy Buddhist site is associated with the legendary 8th century Buddhist saint Guru Rinpoche, who introduced Buddhism in Bhutan. Guru Rinpoche is believed to have flown to this site on the back of a tigress, and meditated here for three months. An optional hot stone bath excursion is available for a fee.
Day 11. We bid farewell to Bhutan for our return home via Bangkok.
Contact us for more information by calling the Alumni Office at 508-286-8207 or email alum@wheatoncollege.edu.
Please read our terms and conditions and other important information.