The Wheaton Travel program offers group travel opportunities with an educational component designed specifically for Wheaton community members.  All trips are led by Wheaton faculty, which provides one-of-a kind travel and learning opportunities.
*Please note that this program has been on hold due to COVID-19. We will re-open the program once we feel it is safe to do so. Stay tuned!
Wheaton in the Himalayas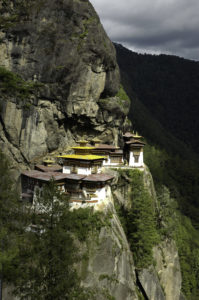 The group for the tour, which traditionally runs in October, is kept intentionally small (approximately 14 people, plus guide) to ensure a high-quality experience with plenty of opportunity for personal interactions with the guide and other guests. Participants should enjoy traveling with a group, and be physically active and ready to enjoy the many cultural differences they will encounter. Being in the Himalayas means that we will be touring at high elevations. Bhutan's capital city, which will serve as a base for our travels, is located in a narrow valley at an elevation of 7,500 feet above sea level. Our excursions will take us to elevations above 10,000 feet. On most days, we will walk several miles over uneven terrain, navigating rocky paths and stairs without hand railings. All participants should be in good physical health. If you are unsure about your ability to participate, please bring our sample itinerary to your physician to discuss whether this program is appropriate for you.
Trip Highlights
Our 12-day excursion, which is being offered exclusively to the Wheaton community, will include visits to the country's most famous sites, from the legendary "Tiger's Nest" monastery to a high-altitude glacial valley that is home to the endangered black-necked crane. The trip also will include traditional Bhutanese arts presentations and cultural performances as well as fine dining and 4-star accommodations.
Wheaton Faculty Leader
Bruce Owens, associate professor and chair of the anthropology department, earned his Ph.D. in anthropology from Columbia University. His geographic interest is South Asia, particularly the Himalayas, and he has done fieldwork in Nepal over the past 35 years. His research focuses on religious festivities and sacred sites; Bhutan is justly famous for both.
At Wheaton, in addition to teaching courses on South Asia and the Himalayas, he has taught introductory courses in cultural anthropology and human evolution as well as anthropological theory, psychological anthropology, festivity, and the anthropology of art. Professor Owens co-led the first Wheaton student trip to Bhutan in 2006, and he has been a co-coordinator of the Wheaton-Royal Thimphu College Partnership since its inception in 2009. Professor Owens served as the resident director of the program during the spring semester of 2013.
Read about photographs by Professor Owens featured in "Dharma and Punya: Buddhist Ritual Art of Nepal," which was named one of the most important exhibitions of 2019 by The New York Times.
Trip Details
Duration: 12 days
Activity Level: Moderate, some hikes may be strenuous
Cost: $5,999 per person, based on double occupancy
Single Supplement: $7,499 per person (limited availability)
Deposit: $1000 per person, payable to Wheaton College, non-refundable
Price does not include: Airfare from/to home; passport and visa fees; all airport fees and departure taxes; cost of personal trip cancellation and baggage insurance; transportation of excess baggage; meals other than those listed in the itinerary; personal tips; items of a personal nature, such as laundry; alcoholic or other beverages, except as noted above; taxi, telephone, and fax charges; optional excursions or deviations from scheduled tour.
Itinerary
Day 1. Arrive in Kathmandu, Nepal. We will gather for an overview of the trip, a reception to get to know each other and an optional tour led by Prof. Owens.
Day 2. We will spend our first full day getting acclimated to higher altitudes and exploring two of the most important of Kathmandu's historic and sacred sites for Buddhists and Hindus: the enormous stupa at Boudhanath, particularly important to Tibetans, and the vast complex at Pashupatinath, one of the holiest of shrines of all South Asia for Hindus.
Day 3. We will go to the hilltop stupa, Swayambhu, another of the valley's most sacred Buddhist sites that were restored in the 17th century by the King of Bhutan. We will also explore the narrow winding streets and courtyards of medieval Patan, also known as Lalitpur ("the beautiful place"), which is home to over one hundred and sixty monastic compounds and some of Asia's most famous artisans.
Day 4. We depart for Bhutan, landing in Paro. On our way to Thimphu, about an hour and a half away, we will stop for a light snack across the river from Tamchog Lhakhang, a fifteenth-century temple built by Bhutan's famous iron bridge builder and religious adept, Thangtong Gyalpo. Upon arriving at Thimphu, we will visit the Tashichho Dzong, a fortress-monastery housing His Majesty's office, offices of the National Government, and the Central Monastic Body.
Day 5. On our first full day in Bhutan, we will take a short easy walk along a forested trail to visit Wangditse Lhakhang, one of Thimphu's oldest temples, currently under reconstruction after the earthquake of 2012. The trail affords wonderful views of the valley, especially of Tashichho Dzong which we will have visited the day before. We will then visit Zorig Chusum, the National Institute for Traditional Arts, to observe students practicing the country's 13 traditional arts, including wood carving, embroidery, and clay sculpture. We will then visit the Memorial Chorten, the unusual realized vision of Bhutan's third King, filled with extraordinary examples of Bhutanese sculpture in the form of countless images of deities from the vast pantheon worshipped in Bhutan.  After lunch, we will visit the recently inaugurated Textile Museum which houses a superb collection of textiles for which Bhutan is famous, and where we will also be able to see artists in residence at work. Continuing our exploration of Bhutanese arts, we will then visit the nearby Jungshi Handmade Paper "Factory," and adjacent painting galleries. To conclude our day, we will drive up to the enormous Buddha Dordenma Statue, which has recently come to dominate the valley, and which provides a popular scenic viewpoint from which to see the Thimphu valley and the snow-capped Himalaya to the north. Dinner will be preceded by a talk by Dr. Karma Phutsho, Bhutan's preeminent historian and once-ordained monk.
Day 6. We travel to the northern end of the Thimphu Valley to hike up to the Tango monastery, where many of Bhutan's most famous religious figures have received teachings, and where we will have tea. On our way back to town, we will stop at Pangri Zampa, a beautiful temple complex that houses the Institute for the Study of Astrology, and have a picnic lunch near the Thimphu Chu (river). We will then visit Changankha Lhakhang, Thimphu's richly adorned oldest temple, which affords wonderful views of the valley, and then explore on our own local farmers' and crafts markets on the banks of the Thimphu River below.
Day 7. We will visit the Punakha district, stopping on the way at Dochula, a beautiful mountain pass at 10,200 feet where the Queen Mother established 108 chortens, the most ubiquitous of Buddhist shrines. Weather permitting, we will enjoy panoramic views of the eastern Himalayan mountain range with several mountains above 7,000 m, including the highest unclimbed peak in the world (Mt. Gangkar Punsum at 7,570 m / 24,835 ft.). After descending from the pass, we will take a short hike through Yuwokha village and nearby rice paddies to Chhimi Lhakhang, a temple dedicated to the famous 14th century Buddhist "mad" saint, Drukpa Kuenley, beloved to many Bhutanese – especially those desiring children – and known for his highly unorthodox methods of imparting wisdom. Upon arrival at Punakha, we will visit the Punakha Dzong, one of Bhutan's most important fortresses that is the winter home to the national monk body and also houses some of Bhutan's most precious relics.
Day 8. We are off to the high-altitude glacial Phobjikha Valley, which is home to the Gangtey Monastery and the Black Necked Crane Centre, a winter habitat for the endangered black-necked crane. We will take a walk around this beautiful and unique high altitude glacial valley, which is the winter home to the endangered black-necked crane.
Day 9. We return to Thimphu and make our way to the Royal Thimpu College, Bhutan's first and only private college and Wheaton's partner institution and the site of our study abroad program in Bhutan. While there, we get a tour of the campus and meet and have tea with Wheaton students currently in residence, and hear a brief presentation from Dean of Development and External Relation on Education in Bhutan, Samir Patel. You will be free to explore on your own before the group reconvenes for an authentic Bhutanese cultural program and dinner at the Folk Heritage Museum, where a traditional Bhutanese rural home is preserved.
Day 10. We visit four important historical and cultural sites in the Paro District. In the morning we will visit the Rinpung Dzong, a fortress built in the mid-1600's by the founder of Bhutan, Zhabdrung Ngawang Namgyal and its nearby Ta Dzong, an ancient watchtower that houses the National Museum of Bhutan. After lunch, we will visit Kyichu Lhakhang, the earliest Buddhist temple built in Bhutan (circa the 7th century) and take a beautiful drive to visit the ruins of the seventeenth century Drukgyal Dzong, which guarded a critical pass against Tibetan invasion.
Day 11. In many ways, the highlight of a trip to Bhutan is the five-hour trek to and from Taktsang, an iconic monastery perched on the cliffs of the upper Paro Valley. Known as the Tiger's Nest, this Holy Buddhist site is associated with the legendary 8th-century Buddhist saint Guru Rinpoche, who introduced Buddhism in Bhutan. Guru Rinpoche is believed to have flown to this site on the back of a tigress and meditated here for three months. After our hike, you will have time to explore Paro on your own or take another short (and fairly level) hike on a forested trail above the valley floor which leads to several historic and relatively isolated temples. An optional hot stone bath excursion is also available for a fee.
Day 12. We bid farewell to Bhutan for our return home via Bangkok.
Wheaton College has a longstanding study-abroad connection to Bhutan. You can learn a little more about that in this Q & A with Dana Polanichka, Associate Professor of History, who served as the resident director of the Wheaton in Bhutan program during the fall 2019 semester.
For more information on this transformative trip, please contact the Alumni Office at 508-286-8207 or email alum@wheatoncollege.edu.