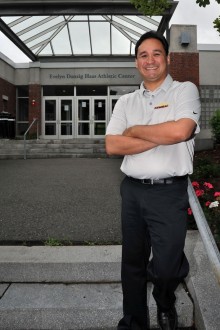 Patrick B. Summers '94
Member-at-Large
Alumni Association Board of Directors
patrick@newmacsports.com
Alumni Volunteer History:
APAC Member, 1996-present
Plenary Speaker, Sophomore Symposium, 2013
Speaker, Sophomore Symposium, 2011
Filene Center Career Mentor, 1996-present
Current Profession:
Patrick is the Executive Director of the New England Women's and Men's Athletic Conference (NEWMAC) an 11-member NCAA Division III Athletics Conference. Full members include Babson College, Clark University, U.S. Coast Guard Academy, Emerson College, MIT, Mount Holyoke College, Smith College, Springfield College, Wellesley College, Wheaton College and WPI.
As executive director, Patrick is the NEWMAC's chief administrator responsible for day-to-day operations where he implements and directs the conference's strategic plan; oversees, interprets and enforces NCAA and NEWMAC policies, procedures and protocols; has budget oversight and serves as liaison to the NEWMAC Presidents Council and Directors Group in addition to several other conference committees.
Professional Background:
Executive Director, NEWMAC (2011-present)
Guest Lecturer Sports Management, University of Massachusetts, Regis College, Anna Maria College and Becker College (2011-present)
Co-Founder and Chief Operating Officer, PrestoSports (2003-2010)
Assistant Commissioner, Eastern College Athletic Conference  (1996-2003)
Academic Background:
Wheaton College, Political Science, 1994

Varsity Tennis Team, Captain