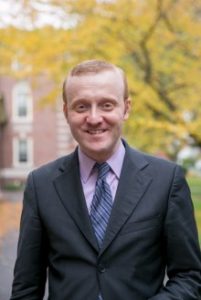 Christopher "Chris" Paquet '03
Alumni Trustee
Alumni Association Board of Directors
cbp220@gmail.com



Alumni volunteer history:
Tri–State Regional Wheaton Club Co-President, 2010-14
Filene Center Career Partner, 2011-Current
Sophomore Symposium 2010 and 2011
Admissions Office Ambassador 2006-2014
Current Profession:
Christopher Paquet is the Acting Commissioner for the New York City Office of Emergency Preparedness and Response (OEPR) for The New York City Department of Health and Mental Hygiene (DOHMH).
During emergencies, Chris serves as a member of New York City's Incident Command System, in this role he works closely with City leadership to respond to a wide array of emergencies, H1N1, Ricin, Hurricane Sandy and most recently, Ebola.  In 2012-2013, Chris was honored by New York City with an award for managerial leadership designed to recognize a particular Assistant Commissioner or Program/Bureau Director for exceptional management under difficult and/or adverse circumstances.
When not activated, Chris collaborates across other divisions and city agencies to better our ability to respond to biological, natural, and man-made disasters. In 2012-2013, Chris directed the Policy and Strategic Initiatives Unit, which works to identify innovative solutions to today's ever changing preparedness and response challenges.  Lastly, Chris continues to play a pivotal role in shaping policy efforts at all levels of government.
Professional background:
Deputy Director, New York City DOHMH, Office of Emergency Preparedness and Response 2012-Present
Acting Executive Director, New York City DOHMH, Office of Emergency Preparedness and Response 2011-12
Intra-Agency Director and Incident Command System Liaison Officer, New York City DOHMH, Bureau of Emergency Management, 2008-2011
Management Consultant, Flanagan Consultants LLC, 2006-08
Program Manager for Disaster Preparation and Trauma Mitigation, World Cares Center, 2005-06
Consultant, African Council for Sustainable Health Development, 2004-2005

Academic background:
B.A. Wheaton College, 2003 Major:  Political Science Minor: Pre Law
M.P.A. in Management and Policy, New York University, 2005
Awards/Honors:
Wheaton:  Young Alumnae/i Achievement Award, 2013
Managerial Leadership Award, City of New York, 2012
A-Team Award, City of New York, 2012 and 2013
Wheaton:  Ruth Capers McKay Award, 2002