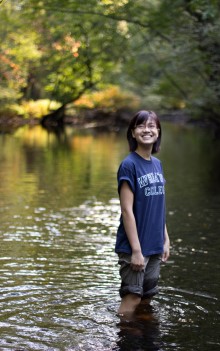 Name
Thao Phuong Hoang
Citizenship
Vietnam
Majors
French and Economics
Activities at Wheaton
Resident Advisor, organizes events for the Marshall Center for Intercultural Learning, participates in Intergroup Dialogue sponsored by the Marshall Center; Wheaton for Cambodia; Outdoors Club; Wheaton Café Theatre
Off-Campus Experiences
Semester abroad in Montpelier, France; intensive French program at Middlebury College; participated in a faculty led trip to South Africa
Summary

Thao's first semester at Wheaton was not without its challenges. Shortly after she arrived, the campus had to close for almost a week due to a hurricane and less than two months later there was a major snowstorm. Despite these obstacles, she has thrived and has been very happy with the approachability, helpfulness and support offered by her professors. When she came to Wheaton, she had some ideas about what she would study, but her classes, professors and involvement in multicultural activities on campus have led to surprising opportunities she never expected, such as becoming a French major and going to South Africa. Both of these experiences were partially supported by funding from Wheaton.
The services of Wheaton's Filene Center were very helpful as she started thinking about internship possibilities. She's also received good suggestions from friends on campus, including a Guatemalan student, who has encouraged her to pursue an internship in South America to explore her interest in social entrepreneurism.
Thao says that Wheaton has been a great experience because she gets to try new things and meet people from different backgrounds. "You can totally have an international experience on Wheaton's campus, but it takes coming out of your comfort zone and getting used to talking to different people." Thao has pushed herself and, as a result, has a broad range of friends and has achieved her goal of making sure that her four years in the United States would not be solely about classes. She's had lots of surprising opportunities and thinks Wheaton is a great place for adventurous students!