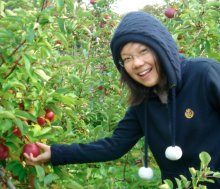 Name
Shiwei Huang
Citizenship
China
Major
Economics and Math
Activities at Wheaton
Outdoors Club; Habitat for Humanity; Photography (work for the Communications Office); Chamber Orchestra; Campus Orientation and Registration Experience (CORE) assistant; Wheaton Investment Association
Wheaton overseas programs
Tanzania (Education and Development) and South Africa (Witnessing Contemporary African Society and Culture)
Internships and other professional development experiences
Goldman Sachs  (New York City); J.P. Morgan (New York City); LPL Financial (Boston); Grameen Bank (Dhaka, Bangladesh)
Summary
Shwei is an energetic student who has been involved in many aspects of the Wheaton community. Her Wheaton experience got off to a great start when her First Year Seminar First Year Seminar (FYS) professor, Geoff Collins , met her at the airport at 6 AM, upon her arrival to Massachusetts. Before orientation, she and her FYS classmates went camping and formed a close knit group.  Shiwei credits her FYS experience for launching her smooth transition to Wheaton and the U.S. and has spent numerous holidays at the homes of her FYS friends. Getting used to American food "was rough," but says it's only a small problem compared to the advantages of being at Wheaton.
The opportunity to collaborate with her classmates and professors is one of Shiwei's  favorite aspects of Wheaton. She meets frequently with Professors Gildea and Miller to talk about class preparation and internship opportunities, and Professors Freeman, Allen and Kerner have lead student groups on experiential learning trips to Tanzania and South Africa.
Shiwei has tapped the Wheaton alumni network for advice that lea to two of her internships (Garameen Bank and LPL Financial). Another Wheaton graduate, Ryan Letada, encouraged her re-start the Wheaton College Investment Association, a club that Ryan founded while at Wheaton, which had become inactive after his graduation. The Association manages student-run portfolios and brings together students with shared interests in finance to form a vibrant learning group. Many of Shiwei's internships and foreign travel experiences have been supported through funds from the Wheaton Fellowship program which awards over $600,000 annually to support research, internships, volunteerism and conference attendance.
Shiwei is thrilled that she chose to attend a small liberal arts college. She had this to say about the opportunities at Wheaton "If you want to do something, you do it, whether you are an international student are not. All the advising resources are here and funding has always come to me. Dream big. There are no limitations at Wheaton. Seriously!"