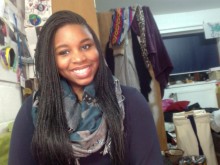 Name
Omobola "B" Phillips
Citizenship
Nigeria
Majors
Studio Art and Business & Management
Activities at Wheaton
Sister Circle (a women's feminist group); track and field team member and coach's assistant; member of the Renaissance House (a group of women of color who live together)
Summary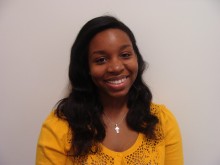 Even before coming to Wheaton, B was a global citizen, having lived in South Africa and the United Kingdom in addition to her native Nigeria. "I adjust to new environments easily," B said, when speaking of her smooth transition to Wheaton.
In addition to her coursework, which has required her to push herself more each semester, B is very happy with the relationships she has established with faculty. "Here, it's one-on-one class interaction and I can have lunch and coffee with my professors. It's a rigorous environment, but there are lots of resources to help me flourish in all areas of my life. Everything is available for me and it's easy to get what I need."
B has been very involved in the multicultural and women's groups on campus. She played a big role in producing an anthology of stories from female students, called Herstory, that promote self-confidence and support. She's excited that these stories have provided encouragement and confidence among female Wheaton students.
B appreciates that Wheaton embraces diversity and responds to the needs of its students. She's noticed more international food in the dining halls recently, and says that Wheaton "always strives to improve in every aspect." B is very glad that she came to a small college and says that the strong student faculty relationships "are very important for me. They understand me. It's a huge advantage and disciplines me to get my work done, but still have time to socialize. Wheaton is great preparation for the outside world!"