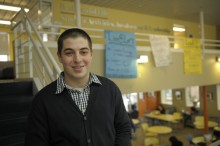 Name
George Managadze
Citizenship
Georgia
Major
Economics
Minors
Chemistry, Biology (premed advising)
Activities at Wheaton
Organizes and leads study sessions for economics students; Preceptor (academic mentor to students taking a First Year Seminar in economics called Hedonism);  Member of the rugby team; Volunteer at nearby Sturdy Memorial Hospital in the Patient Transport department.
Internships
One of 16 interns from a pool of 300 candidates to conduct research in The Center for Reproductive Medicine at the Cleveland Clinic; Worked in the Cardiovascular Department with doctors at the Mayo Clinic; One of 50 interns out of 500 applicants for an internship in the Emergency Room at Bellevue Hospital in New York City; Hoping for an additional internship at the Urology Department of the Lenox Hill Hospital in New York City.
Summary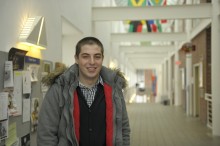 George was excited to come to Wheaton because he had already visited Massachusetts as a student at the Harvard Summer School when he was in high school. This familiarity, contributed to his smooth transition to life at Wheaton.
Though passionate about the field of economics, George's career goal is to become a urologist. He has pursued many internships and research opportunities at hospitals in an effort to distinguish himself in the highly selective medical school admission process. George is grateful to Ben Chalot and Alex Trayford, advisors in Wheaton's Filene Center, who have provided "lots of help with my internship applications and essays." He feels that all Wheaton students should take advantage of the great advising and financial resources available for internships and research at Wheaton. Thousands of dollars in Wheaton stipends have covered the expenses involved in most of his internship activities.
One of George's favorite aspects of Wheaton is the commitment of the faculty. He says that professors "know their students well, are very accessible and care about students' success." Wheaton's size has allowed him to distinguish himself and offered him the flexibility to do many different things such as serving as an academic mentor to students and to dabble in music by taking piano classes. Though his academic pursuits are most important to him, George has made many great friends and likes to spend time with his rugby teammates and his classmates.