Citizenship
Sri Lanka and Singapore
Major
Economics
Activities at Wheaton
Rugby
Internships
Ernst & Young; Global Development Department at the London Stock Exchange; Samuel French Company (Accounts Department); consulting work with a stockbroker in Sri Lanka
Wheaton overseas program
London School of Economics
Summary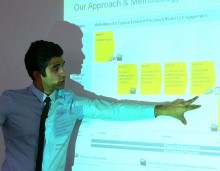 Dimitri's path to Wheaton was a little different than most students in that he completed two years of Singaporean national service between secondary school and college. In addition, he already knew a lot about Wheaton, because Dimitri's brother and his brother's girlfriend are both Wheaton graduates. Equipped with the familiarity of Wheaton and maturity from his post-secondary school experiences, he arrived ready to make the most of the opportunity.
Currently, Dimitri is enrolled in Wheaton's year-long program at the London School of Economics (LSE). His time at LSE has been enriching, but he says "I really miss Wheaton professors, the campus and the intimate setting. Wheaton prepared me well for the academic rigor of LSE, but the classes have up to 200 people in them and are not always taught by the professor. I miss the community feel of Wheaton and the guidance offered by the faculty and staff."
Dimitri has pursued numerous business-related internships, each of which were paid opportunities or were funded through the Wheaton Fellowship stipend program. He's built a deep and impressive resume of real-world experiences, and has already been offered a job at Ernst & Young upon his Wheaton graduation. He's currently applying for a summer 2014 internship at one of the top management consulting firms in the world.
Dimitri has taken advantage of the Wheaton alumni for help with with career connections. When he's not making plans for his future, he's passionate about playing on the Wheaton rugby team, and also enjoys spending time with American and international students at Wheaton. He says that he was pleasantly surprised by the degree of international awareness at a school Wheaton's size and that it's been reassuring to know that there's always someone else in the Wheaton community who shares the same thoughts and feelings.