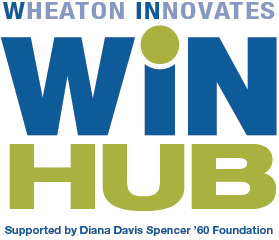 The WiN Hub was created in collaboration with the Diana Davis Spencer '60 Foundation to introduce the transformative force of social entrepreneurship to the Wheaton community. Through programming, events and workshops, students gain the confidence and competence to follow their passions and launch their own social enterprises.
On this page
---
The WiN Hub at Wheaton
The flagship WiN Hub programs were purposefully created to guide students on the journey to social entrepreneurship.
Students are introduced to the entrepreneurial world by exploring their own passions and developing new ideas in an entrepreneurship bootcamp setting. From there, they learn how to effectively communicate and sell their business idea.
It all comes together at the end of the semester with a campus-wide Business Showcase, where the students can market their business idea and sell their goods and services to the Wheaton community.
SE Launch Program
SE Launch (Social Entrepreneurship Launch) is a multi-week residential program where students dedicate themselves to learning the skills and strategies necessary to launch their own businesses. The SE Launch program is made up of three components:
Meaning Maker Boot Camp, led by GCSEN (Global Center for Social Entrepreneurship Network), is a week-long program, offered during the January break, where students learn how to define their passion and develop their business idea
Spring Semester Programs, students continue to meet in a series of workshops designed to guide them from ideas to actions in order to move their business plans forward
SE Launch Wheaton Week, held the week after commencement, provides engaging work shops and interactive sessions with members of the extended Wheaton community and culminates in a Pitch Competition
Students must apply to be accepted into the SE Launch program and are selected based on their passion for entrepreneurship and creating social change. The program is offered free of charge through the generosity of the Diana Davis Spencer Foundation, and students who successfully complete all three components of the program will receive a $500 business start up stipend.  Ready to get started?
Student Pitch Competition
The Student Pitch Competition is a highly visible opportunity to showcase the diversity of social ideas and solutions across the Wheaton community. Through this event, students have the opportunity to practice their presentation skills and persuasiveness. Students have three minutes to present their creative solutions to their peers and a group of judges comprised of Wheaton staff, alums and experts in the field of social entrepreneurship. Participants compete for cash prizes and receive feedback on their pitches.
The theme for the spring 2018 Student Pitch Competition was "If You Had a Million Dollars, How Would You Change the World?"
Winners were:
1st Place
Drew Brodney '21
Coming Out of the Shell – improve quality of tools for special ed teachers
2nd Place
Angel Bird '21
DUH – provide transportation for students with mental health needs
3rd Place
Zara Salmon '18
Café Nefertiti – make plant-based diets affordable and available to everyone
Audience Favorite
Ian Kobelenz '20
Origin Air – reducing and reusing carbon emissions to improve the environment
Student Business Showcase
The Student Business Showcase is offered once per semester as a way to bring awareness about entrepreneurship to the Wheaton community. This event affords students the opportunity to gain insight into the viability of their business by sharing it with others. With the assistance of workshops and mentoring, students prepare marketing displays that illustrate their business concepts. They have the opportunity to get feedback, conduct market research and sell their goods and services in a real-life sales environment.
Other Programs
The WiN Hub offers many other opportunities throughout the year for students to develop their business ideas and skills. Located in the basement of the Doll's House, The WiN Hub is home to a plethora of programs.
Some of the programs offered during spring semester 2018 include:
Personal branding workshop
Salary negotiation workshop
SE Launch program reunion lunches
Internship funding and professional development opportunities
"Pitch Practice, Pitch Perfect" coaching
Marketing Your Student Business workshop
Ashoka U Exchange Conference in Boston
Field trip to Social Entrepreneurship Greenhouse in Providence, R.I.