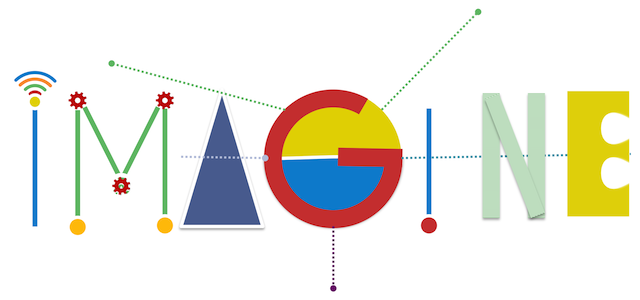 I

nter

M

edia

A

rts

G

roup

I

nnovation

Ne

twork

The IMAGINE project provides opportunities for integrating technology into the arts at Wheaton, with a network of high-tech and traditional creative hubs across campus and opportunities for student-faculty collaboration.

IMAGINE @ Wheaton College (MA) from IMAGINE at Wheaton College on Vimeo.
Opportunities for Students and Faculty
IMAGINE also provides funding for course development and student/faculty collaboration across the arts and sciences:
Makerspace Lab 213 Open Hours (Fall 2019)
Monday – Friday 3PM – 8PM
Get in touch with IMAGINE
Interested in learning more? Email Madison Dunaway at dunaway_madison@wheatoncollege.edu
Wheaton Makerspaces
The InterMedia Arts Group Innovation Network (IMAGINE) features 10 physical spaces throughout campus where students, faculty and staff can experiment with art, technology and making. The three newest locations include HATCH, Lab 213 and FiberSpace.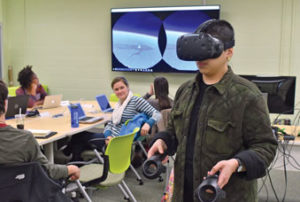 (Humanities, Arts and Technology Creative Hub)
Located in Meneely; houses virtual and augmented reality devices, Oculus Rift VR gear and Tobii eye tracking technology, as well as two 85-inch LED monitors.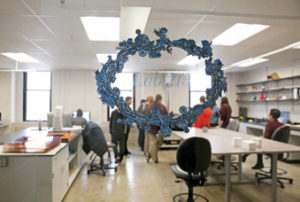 Located in two rooms of the Science Center, known as Wheaton's central makerspace. It houses a laser cutter and engraver; two 3-D printers; a 3-D scanner; a scanning design computer; and more. The adjacent Machine Shop features additional equipment.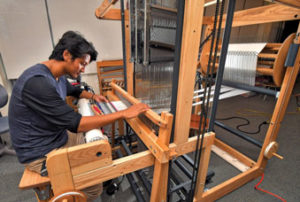 Now located in Watson Fine Arts, this space houses the newest piece of maker equipment—a 30-inch programmable Jacquard loom capable of analog weaving custom textiles from digital inputs.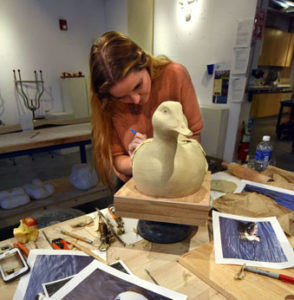 Other creative spaces affiliated with IMAGINE
Kresge Experimental Theatre—Multimedia performance venue
Sculpture studio—Woodworking, metalworking, ceramics and more
Graphic design lab—Digital arts and video resources
Ellison Dance Studio—Teaching and rehearsal space for dance and performing arts
WCCS radio station and recording studio—Student-run recording studio
Madison Dunaway
Coordinator, Innovation Programs and Spaces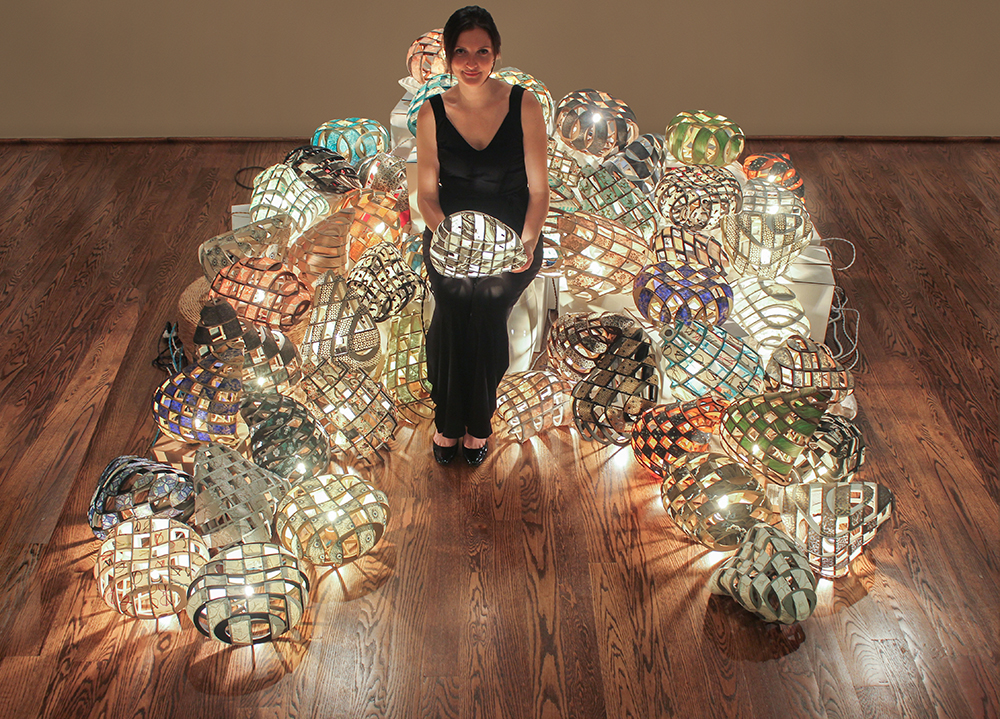 Madison believes innovation has potential to be equitable and collaborative. Her work is driven by her passion to use digital fabrication as a means to embrace the third digital revolution and the hopes it could bring. By creating open-ended making spaces and using tools to do meaningful things, she facilitates and supports community and a sense of place.
It all began when Madison found herself returning to an empty room with some printers and a laser whilst pursuing a BA in Fine Arts. Believing technology, computers, and wirey things were not her friend, she shied away from the spooky machines. Soon after, her friends convinced her to try again and she found that it was actually pretty fascinating. Digital fabrication became her medium and her work found a voice. After graduating she founded a digital fabrication fashion show at the University of North Carolina at Charlotte as a collaborative effort between the College of Arts and Architecture and Computing Informatics. She published her first paper, Statement Making: A Maker Fashion Show Foregrounding Feminism, Gender, and Transdisciplinarity, with Johanna Okerlund and presented at the Hong Kong Polytechnic University in 2018. She was then recruited to lead one of Charlotte's first community Maker Spaces at Discovery Place Science.
At Wheaton, Madison oversees the Innovation Spaces consisting of both the Makerspace network and the Win Hub. Madison is excited to be a part of the Wheaton team and loves working with people! In her free time, Madison enjoys making vegan sushi, the outdoors, and Star Wars…and eating infinite amounts of popcorn.