What is the Austin House?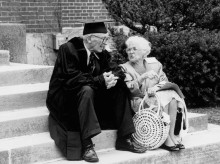 Austin House is the former home of Wheaton professor Holcombe McCulloch Austin (1906-2003) and his wife, Ethelind Elbert Austin (b. 1909). Professor Austin, who taught in the college's philosophy department from 1941-1972, commissioned the house in 1960 from The Architects' Collaborative (TAC), a Cambridge-based design firm directed by the renowned German architect Walter Gropius (1883-1969).  The Austin House is now owned by Wheaton College and serves as a guest house for the college.
Mid-Century Modern
A recipient of the Architectural Record's "House of the Year" award in 1962, the Austin House is an important example of mid-century Modernist design – a monument to Professor Austin's aesthetic vision and to the international, progressive character of Bauhaus ideals.
The Gropius' name is synonymous with twentieth-century Modernism, largely due to his connection with Germany's progressive design school, the Bauhaus, an institution he founded in 1919 and directed until 1928. Under Gropius's leadership, the school functioned as one of the century's great crucibles of Modernism – including amongst its faculty such notable figures as Josef Albers, Marcel Breuer, Ludwig Mies van der Rohe, Wassily Kandinsky and Paul Klee (Albers' Homage to the Square series and a version of Breuer's tubular steel dining chairs, first produced at the Bauhaus, can be seen in the Austin House living room).
Gropius' initial connection to Wheaton dates to 1937, the year the architect emigrated to the United States following Hitler's rise to power. Entering the competition for Wheaton's new Fine Arts building in that year, Gropius was awarded second prize. Nearly twenty years later, Austin,who specialized in the philosophy of aesthetics and who had long admired Gropius' work asked him to return to Norton to create this house. The Austins' new Bauhaus-inspired home, completed between 1960-61, fused traditional Japanese design principles with German minimalism, creating an intimate connection with the surrounding landscape that especially suited Professor Austin's love of trees.
Related links
Austin House
20 Elm Street, Norton, MA
Directions (fr. Public Safety)