Student Opportunities
The Film and New Media Studies program provides a number of opportunities for students that sets our program apart from other institutions.
On this page
Filmmaker in Residence Fellowship
The Filmmaker in Residence Fellowship embeds a student filmmaker on select international faculty led trips to film the group experiences and produce a 4-6 minute video. The fellowship provides all necessary equipment and pays all expenses of the trip. Fellowship recipients have traveled to and produced work in Ghana, South Africa, Trinidad, and Rwanda.
For more information, please contact Patrick Johnson.
Film Festival Submission Fund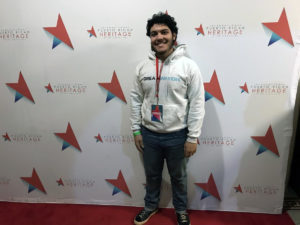 Once students make a great film, we feel it's important to help them get it out into the world via film festivals. At the end of every semester, students can submit their work for consideration to receive funding to submit to film festivals (which typically cost $30-70 per festival application). During each funding round, we offer a 10 festival award (we pay for submission to 10 festivals), a three 5 festival awards, and a five 3 festival awards. For more information, please contact Patrick Johnson.
Recipients of the fund have been very successful in having their work accepted to Film Festivals around the country. Here are some examples:
Dance of the Outsider (La Danse de L'Étranger) Directed by Ellie Levine ('16)
Accepted to: IFFBoston Student Showcase 2018 (Winner Best Student Film), Depth of Field Film Festival, Alhambra Theater Film Festival, Reality Bytes Film Festival, New Haven International Film Festival, Bethel Film Festival, Maine International Film Festival.


Resist Dir Leury Holguin
Accepted to: NewFest 2017, Queer Kampala Intl Film Fest. 2017
The Journey Dir. Dominick Torres
Accepted to: International Puerto Rican Heritage Film Festival, Greenwich Village Film Festival
On Being an Artist Dir. Adaeze Anaebonam and Xavien Powell
Accepted To: Cinema New York Film Festival
The Hidden Harpist Dir. Ellie Levine
Accepted to: Newburyport Documentary Film Festival, Mass Reality Check Salem Film Festival, Marblehead Festival of the Arts
Creating Creators: Emma Garcelon Dir. Heather Fischer
Accepted to: Woods Hole Film Festival (2018)
Student Video Production Team
The Student Video Production Team is a student run production unit comprised of four work-study positions that produce original video content for Wheaton College. This profile film of the IMAGINE Project is one example of their efforts.
If you are interested in applying for the team or would like more information, please contact Patrick Johnson.
Low Cost Production Courses
Film and video production can be expensive and we aim to subsidize as much of the cost as possible. Through the generous support of the Caroline Edward's Fund for Film and Visual Studies, there are no lab or course fees for any production course. Furthermore, incidental supplies like SD cards, Hard Drives, gaffers tape, compressed air, and more are loaned at no cost.
Actor Fund
Finding actors for student films is often one of the greatest challenges facing students. To help Wheaton offers funding to student filmmakers to incentivize outside professional actors to participate in student films.
Study Abroad
We encourage FNMS majors to consider studying abroad. Here are a number of institutions and programs that offer courses and experiences that compliment your studies at Wheaton.