The Marshall Center for Intercultural Learning has created a science cohort for students of color majoring in the sciences or interested in science-related careers. In October 2004, Wheaton College hosted a conference for its students, and local high school students, that brought speakers from around the country to talk about pursuing science, either in college, graduate school or medical school. The Marshall Center aims to reach a broader group of students and deepen their learning by sponsoring regular meetings, workshops and funding for local and regional conferences. For detailed information about this opportunity, please contact Raquel Ramos.
Body Worlds Exhibit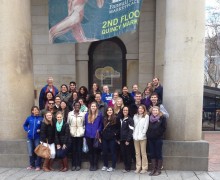 A group of faculty, staff and students attended the Body Worlds Exhibit in Boston including students from Bob Morris' Neurobiology course and Sharri Morris' Anatomy course.
Boston Museum of Science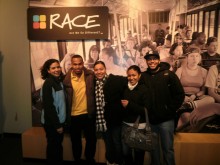 The Marshall Center sponsored a trip to The Boston Museum of Science for students interested in the Sciences, to view the exhibit "Race: Are we so different?". This exhibit takes a fresh look at race through our biology, history and culture. We hope to provide more of these exciting trips in the future.
Resources
For information on health professions advising at Wheaton, please contact Dean Steve Viveiros in Academic Advising.
The Biomedical Science Careers Program, Inc. provides students of all races, ethnic backgrounds, gender and financial status with encouragement, support and guidance needed for the successful pursuit of careers in biomedical sciences. Wheaton students have attended the Biomedical Science Conference at the Park Plaza Hotel in Boston. The conference allows students an opportunity to network with advisors and role models from the clinical sciences, medicine, public health, academic administration and the private sector.
Summer Research Programs and Internships database
Dana-Farber Cancer Institute CURE Program