The Marshall Center is committed to student's growth and development. We encourage students to seek out opportunities outside the classroom that will enhance their academic experience. The Center provides financial support for students to attend off-campus conferences and mini grants for unpaid summer internships. Below is a sample of great connections students have made: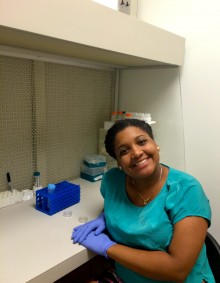 Cynthia Mercedes '17
Neuroscience Major; Breast Cancer Research Assistant
This past summer was a summer for learning. For approximately two months, I resided on campus and worked along side Professor Hilary Gaudet and a few other students in the Chemistry department. Specifically, we worked on biochemistry experiments that analyzed activity within cultures of breast cancer cells. We began the summer by learning different lab techniques and lab etiquette. For example, it was essential that our lab bench maintained sterile and organized for maximum results. We quickly learned that without a sterile site, our cultures of cells can quickly grow mold or bacteria, which will then disable us from proceeding with experiments, setting us back a couple of days. Alongside a sterile location, swift and speedy manipulation of equipment was of paramount importance. We learned how to use a myriad of pipets, both manual and electrical, also ranging in sizes, in addition to cell imaging equipment. After implementing the skills we learned, Professor Gaudet introduced us to splitting, growing, and analyzing cells.
During my time in the lab, I gained the skills required to distinguish contaminated flasks, three types of molds, and to determine the appropriate time to split cells for seeding and further growing. After allowing several days for cells to duplicate, we counted the cells in wells and commenced our experiments. We conducted an ER assay and prepared to detect apoptosis through fluorescent microscopy and immunofluorescence. Both approaches consisted of their own procedures with similar measurements of methyl mercury however, with different styles of cell manipulation. Our main goal was to study the proliferation of breast cancer cells under different levels of Methyl mercury. We ran numerous amounts of trials with the goal of replicating our results and perfecting our procedure. Furthermore, we collected many images of our cells and have been preparing to publish our results.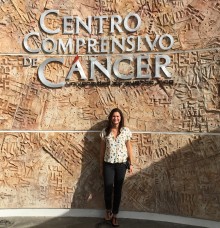 Sara Santini '17
Anthropology Major; Public Health/Psychology Minor; Cancer Research Assistant
This Summer I interned in El Centro Comprensivo de Cancer, an agent of the Department of Health in Puerto Rico, which is in charge of the cancer control on the island. The Center is a place where dozens of professionals from different fields and medical students work together to control the cancer on the island by preventing, screening, detecting, treating, and providing post-treatment care.
During my 5-week experience, I was involved in various projects. I interviewed skin cancer participants on their medical history and research and later transcribed their recordings. I also participated in a conference of the Coalition called "Alianza para el Control de Enfermedades Cronicas de Puerto Rico", an organization that works on preventing chronic disease on the island.  At the conference, I participated in a workshop "Collaborative Leadership and Community Strengthen" where we learned different strategies to unite a community and create leadership roles and activities within the community. Additionally, I participated in various meetings discussing Human Papilloma Virus and read the Cancer Control Plan for 2015-2020, where I was given the opportunity to use my Public Health knowledge and give personal input. I also developed a website for the different cancer research programs the Center sponsors with MD Anderson in Houston, Texas.
This experience broadened my knowledge on how the health system works on the island. In the weeks of meeting with health professionals, researchers, doctors, and professors I saw the strengths and weaknesses of the current health system. With the wide faculty and staff I learned a lot from different areas such as Public Health and Public Policy while also having the opportunity to design a website. This experience helped me discover what I want to pursue as a professional. I want to work in Public Health and return to Puerto Rico when I finish Graduate school to serve my community.
Chanelle Irakoze '18
Community Health Center Internship
Everybody likes to have fun during Summer and get away from Math and other courses. During this Summer I got a chance of working in a professional place which involved interacting with professionals and patients. I worked at Portland Community Health Center in Portland, Maine as a student intern. I was working on a PDSA on Colon cancer which stands for Plan, Do, Study, Act. The clinic needed to increase the screening rate of colon cancer of its patients. The baseline rate was 23%, and my job was to find ways to pull up the rate even for 2% or more if possible. First, I thought about which way I should make patients be motivated to come at the center and be tested, then I came up with two ways: one was to make calls to patients directly and the other one was to send out letters to patients in other to see which method/ way will work better.
I started my project with gathering all the patients name that were targeted by the disease and looked up all their informations. Notice that I had a permission to go through their files and everything was confidential. I looked when was the last time they were tested or not and started to make calls for 20 patients to see if they will respond to the calls and most of them came to the clinic to pick up their stool kits and after they sent them to the lab for results. On the scale of 1-10, I would give a eight (8) to this way of recruiting patients to be tested through calls.
Afterwards, I worked on my other option of recruiting and I wrote a letter to remind patients  that it's time for them to be tested and that they should come to the clinic to pick up their kits. The letter had to be proven by my supervisor, Dr Renée; then be signed by the head of the clinic which took me over 2 weeks to get the approval. The method of sending letters was slow compared to the one about making calls. I realized that sending letters slows the process of recruiting patients to be tested because we had to mail them then wait for the patients to respond by coming back to the center, then wait for them to collect their kits, then sent them to the lab for results. I would give a five (5) out of ten (10) to this method, just because it was really slow.
Overall, I enjoyed working on this project because, first of all, the center needed a helper to move things forward or to be in charge of other projects that are left unfinished because of lack of time and also because their first priority is to help the walk in patients, then take care of all those projects after. Doctors and Nurse Practitioners are busy doing their main role, moreover they need helpers or volunteers that can take care of those other small things that are meaningful to the clinic/ hospitals.
This Summer experience opened my eyes on the idea of what happen behind the scenes in a clinic. I saw that even though Doctors are considered to be the main personnel in a health center, there are also all those staff contributing in the well-functioning of a clinic that we'll never know about.