Welcome to the 12th Annual (Virtual!) Internship Showcase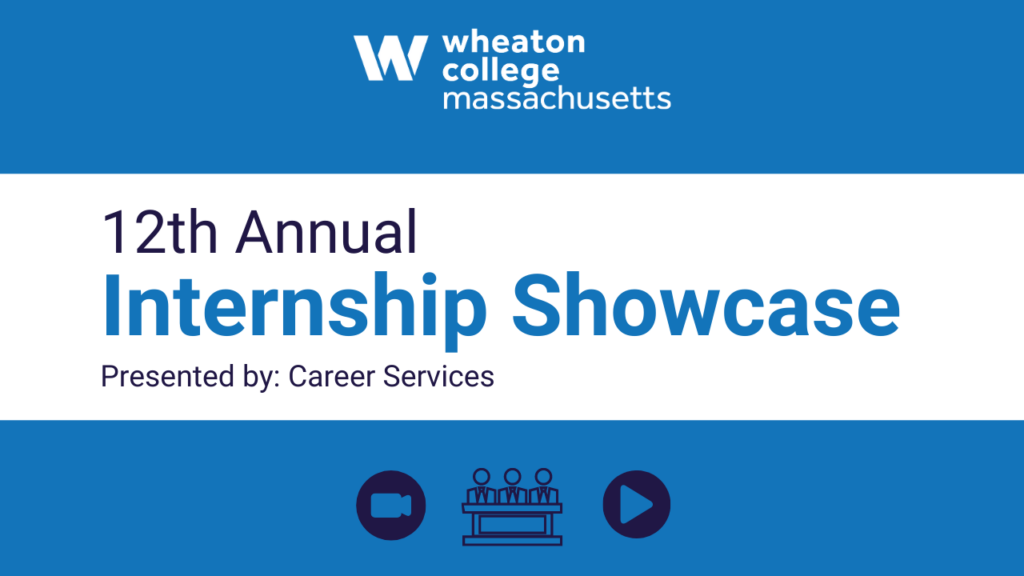 Thank you so much for joining us for the 12th Annual Internship Showcase, taking place virtually this year. The Internship Showcase celebrates the work and learning of students who received Wheaton funding to pursue an internship, volunteer, research experience.
Below, you will find a list of 14 major groups and the students within them. Students participated in virtual panels by major to discuss their experiences, which you may view on each major group page. Additionally, students published blog posts about their experiences, where you can read about all they accomplished in greater detail. The whole event is asynchronous this year, so please feel free to browse the Showcase at your leisure!
We appreciate you taking some time to learn about all the many things our bright, intrepid, and driven students accomplished this past summer and year. We hope you enjoy the virtual Internship Showcase Experience!
Major Groups
Anthropology, Sociology, and Public Health
Anna Fairbairn, Michaela Flibotte, Emma Ford, Caroline Goodwin, Rose Hankes, Jillian Hirst, Brooke Musial, Tatianna Staszkow
Biology, Biochemistry, and Chemistry
Neal Canastra, Elizabeth Eaton, Benjamin Hanna, Hannah Lee, Madeline Michaud, Sydney Rainone, Chelsea Schroeder, Danielle Trudeau
Business & Management
Julia Cellana, Mark D'Augelli, Jr., Sarah Daddario, Emma Jarvis, Casey Kaplan, Mia Len, Henry McKain, Sha-neek Roper, Delaney Stokes
Economics
Thomas Cosgriff, Samuel Goldberg, Trey Kaufmann, Jevaun Quinn
Education
Alexandra Case, Riley Collins, Elizabeth Michaud, Lena Welch
English, Creative Writing, FNMS
Elizabeth Faulkner, Emily Gray, Olivia James, Mazie Starratt
Environmental Science
Julia Centola, Kevin Fischer, Alyssa Gerencer, Nadia Ostreicher, Sadie Woodward
Foreign Languages & Cultures
Anisa Antonio, Jackson Berry, Samantha Ortiz, Chloe Van Dyne
History, International Relations, and Political Science
Lauren Chiovetta, Thomas Erickson, Katherine Kjos, Emma Lerner, Kiran Pfitzner, Sierra Prasad, Jonathan Raymond, Harrison Zeiberg
Humanities (Philosophy, Religion, Classics)
Kimberly Ekstrand, Rebekah Lajoie, Sierra Proft, Maura Rielly
Math, Physics, and Computer Science
Nellie Boling, Ayanda Himlin-Mayekiso, Hannah Lord, Akib Marzuk, Jordan Stout
Neuroscience
Kyla Gaudet, Hannah Lepordo, Jessica Jane Love, Ricardo Ripley, Nicholas Tarzanin
Psychology
Jena Casman, Cameron Glick, Grace Hamel, Jordyn Paul, Karli Retzel, Mikaela Savarese, Satrianna Sawasdikosol, Kezang Tshering
Visual Arts, Performing Arts, and Art History
Madison Abdul, Eliza Browning, Margaret Daly, Vu Do, Lillian Etlinger, Kayla Garabedian, Kneeco Hanton, Mariela Saver
About the Internship Showcase
Wheaton's Internship Showcase is a celebration of the broad array of experiences in which our students participate each summer. Routinely, Wheaton students intern on six continents: from Boston to Bangladesh, Istanbul to India, and Cape Cod to Cape Town, South Africa.
The Showcase provides students with an opportunity to share their meaningful experiences with the Wheaton community—students, faculty, staff and prospective students—so the entire campus can become more familiar with the range of internships and experiences in which our students participate.
These students, supported by Wheaton, engage in guided and independent research, develop important workplace competencies, and broaden their horizons. Internships and research contribute significantly to the transformative liberal arts education that Wheaton provides. By participating in these experiences, students connect their classroom education with their life beyond Wheaton.
Our two primary goals for the Showcase involve:
Motivating participants to reflect upon and articulate what they learned about their field of endeavor and themselves through these experiences, and
Prompting other students to begin planning for next summer.