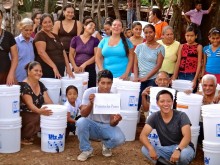 Founded in 2007, Projects for Peace is an invitation to undergraduates at the American colleges and universities in the Davis United World College Scholars Program to design grassroots projects that they will implement during the summer. The projects judged to be the most promising and feasible will be funded at $10,000 each. The objective is to encourage and support today's motivated youth to create and implement their own ideas for building peace.
Projects for Peace was made possible by Kathryn Wasserman Davis, an accomplished internationalist, and philanthropist.  Kathryn Wasserman Davis was the mother of Wheaton alumna Diana Davis Spencer '60 and received an honorary degree from Wheaton in 2008.  At least one Wheaton student has received a Davis Projects for Peace grant each year since the program's inception.
Application Materials – Deadline: Friday, January 31, 2020, at 9:00 am
Read the FAQs or contact Steven Viveiros at viveiros_steven@wheatoncollege.edu with questions.
Past Recipients
An Innovative Response to a Financial Crisis: Aiding Rural Village Farmers and Underprivileged Youth
Sophia Hatzikos '20
Framingham Community Farm: Fighting Hunger and Empowering At-Risk Youth
Jessica Kruger '17
Developing Educational and Creative Outlets for Homeless Youth
Marguerite Dooley '16
Walking to the Waterfalls
Molly Skaltsis '13
People Who Can Help Best Are People Who Have Suffered
Pagna Sophal Donlevy '13
Reading Towards Dreams
Merretta Dickinson '11
Overcoming Malnutrition
Arielle Burstein & Rachael Powell
Puente Alto Safe Zone After- School Program
Caroline Cornwall
To Live, Love, Laugh and Learn: YODIFEE
Siu On Ann Kwan
Sing'isi After-School Program
Caitlin Oâ..Connor & Ashley Mott