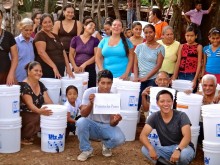 In its Sixth year, Projects for Peace is an invitation to undergraduates at the American colleges and universities in the Davis United World College Scholars Program to design grassroots projects that they will implement during the summer of 2017. The projects judged to be the most promising and feasible will be funded at $10,000 each. The objective is to encourage and support today's motivated youth to create and tryout their own ideas for building peace.
Projects for Peace is made possible by Kathryn Wasserman Davis, an accomplished internationalist and philanthropist.  Kathryn Wasserman Davis is the mother of Wheaton alumna Diana Davis Spencer '60 and received an honorary degree from Wheaton in 2008.  At least one Wheaton student has received a Davis Projects for Peace grant each year since the program's inception.
Read the FAQs or contact Alex Trayford with questions.
Projects for Peace grant recipient Jorge de Leon Miranda '14 provided a water purification system to the community of El Coyol, Guatemala.
INFORMATION SESSIONS
Day: Tuesday
Date: September 20, 2016
Time: 6:00 p.m.
Where: Knapton Lecture
Day: Wednesday
Date: September 21, 2016
Time: 6:00 p.m.
Where: Old Science Center B234