Laura Ekstrom
Associate Professor of Biology
Departments
Programs
Contact
Mars Center for Science and Technology 1130
(508) 286-3940
(508) 285-8278
About
Courses Taught
BIO 112: Cells & Genes
BIO 244: Introductory Physiology
BIO 255: Vertebrate Evolution & Anatomy
BIO 298: Biology of Sharks & Their Relatives
BIO 330: Comparative Biomechanics
Research Interests
Biomechanics and control of locomotion in vertebrates
Evolution of skeletons
Morphological plasticity
Wheaton Women in STEM
Assoc. Prof. Rachelle DeCoste and I co-founded and organize the Wheaton College Summit for Women in STEM to provide support, celebrate, and connect local undergraduate women to potential mentors, employers, and colleagues.  Our 2nd Summit will be on March 24, 2018.  More information will be provided shortly!
Degrees
Ph.D., Florida Atlantic University
B.Sc. with Honours, McMaster University
Research Interests
I am interested in locomotion in a variety of animals. Currently, I use the cane toad as a model organism with which to explore how the vertebrate body stabilizes itself upon impact and how muscle responds to repeated eccentric and concentric contractions.  I am also interested in benthic locomotion in stingrays and more broadly, examining the development of cartilaginous skeleton of elasmobranchs (sharks, skates, and rays).  Tools used to investigate these topic include: electromyography, high-speed video, force analysis, and histology.
Publications
Lanni, J.S., Peal, D., Ekstrom, L., Chen, H.*, Stanclift, C.*, Bowen, M., Kahle, K., Harris, M. 2019. Integrated K+ channel and K+Cl- cotransporter function are required for the coordination of size and proportion during development. Developmental Biology.
Ekstrom LJ, Panzini C, & Gillis GB. 2018. Vision fine-tunes preparation for landing in the cane toad, Rhinella marina. Biology Letters. DOI: 10.1098/rsbl.2018.0397
Cox SM, Ekstrom LJ, & Gillis GB. 2018. The Influence of Visual, Vestibular and Hindlimb Proprioceptive Ablations on Landing Preparation in Cane Toads. Integrative and Comparative Biology.
Dean M, Ekstrom LJ, Ornan EM, Ballantyne J, Witten PE, Riley C, Habraken W, & Omelon S. 2015. Mineral homeostasis and regulation of mineralization processes in the skeletons of sharks, rays and relatives (Elasmobranchii). Seminars in Cell & Developmental Biology.http://dx.doi.org/10.1016/j.semcdb.2015.10.022
Ekstrom, LJ & Gillis, GB. 2015. Pre-landing wrist muscle activity in hopping toads. Journal of Experimental Biology. 218: 2410-2415.
Gillis, G, Ekstrom, L, & Azizi, E. 2014. Biomechanics and Control of Landing in Toads. Integrative and Comparative Biology. doi: 10.1093/icb/icu053.
Ekstrom, LJ & Kajiura, SM. 2013. Pelvic girdle shape predicts locomotion and phylogeny in batoids. Journal of Morphology. 275: 100-110.
Bilecenoglu, M & Ekstrom, LJ. 2013. Pelvic fin walking and punting behaviour of Raja radula Delaroche, 1809 observed in the Sea of Marmara. Mediterranean Marine Science. 14: 158-161.
Macesic, LJ, Mulvaney, D, & Blevins, EL. 2013.  Synchronized Swimming: Coordination of pelvic and pectoral fins during augmented punting by freshwater stingray Potamotrygon hystrix.  Zoology. 116: 144-150.
Macesic, LJ & Summers, AP. 2012. Flexural stiffness and composition of the batoid propterygium as predictors of punting ability. Journal of Experimental Biology. 215: 2003-2012. (with cover and an Inside JEB feature)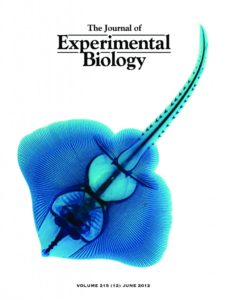 Curtis, TH & Macesic, LJ. 2011. Observations of breaching behavior in juvenile bull sharks, Carcharhinus leucas. Florida Scientist. 74(4): 253-257.
Macesic, LJ & Kajiura, SM. 2010. Comparative punting kinematics and pelvic fin musculature of benthic batoids. Journal of Morphology. 271(10):1219-1228.
Macesic, LJ & Kajiura, SM. 2009. Electric organ morphology and function in the lesser electric ray, Narcine brasiliensis. Zoology. 112: 442-450.
Kajiura, SM, Macesic, LJ, Meredith, TL, Cocks, KL, & Dirk, LJ. 2009. Commensal foraging between double-crested cormorants and a Southern stingray. The Wilson Journal of Ornithology. 121: 646-648.
Student Projects
Student Theses:
2018 Rebecca Olivieri: Long-term adaptations of muscle composition and structure to function.
2018 Doug Werry: The role of vision in the kinematics of landing in cane toads.
2015 Janine Kopeski: Kinematics and muscle activity during punting in freshwater stingrays.
2014 Christopher Panzini: The role of vision in the ability of cane toads (Bufo marinus) to dissipate three-dimensional forces.