Writers collaborate! They test approaches; they reorganize claims; they check to see if  they've sufficiently supported their arguments.
Wheaton peer tutors work with writers on these aspects of composing and more.  All of our tutors have successfully completed a course in peer tutoring (EDU 220). They're great listeners who have a knack for helping other writers to improve their drafts.
The Spring 2018 Peer Tutoring Schedule is available here. You must be logged in to your Google account to access this.

If you have questions about becoming a peer tutor, contact Professor Ruth Foley.
Tutoring FAQ (PDF)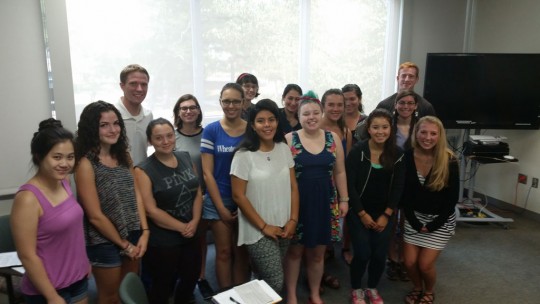 Six-Word Memoirs
Come to teach, stay to learn. Jill Boucher
Strained eyes, in search of real. Max Enos
All great adventures lead me home. Rebecca Siebert
Positive, challenge, confidence, question, insight, relationship. Jane McCarron
"Your syntax is a bit concise." Julie Comart