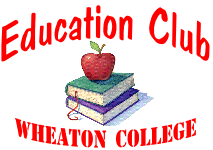 The Education Club is open to Education majors and minors as well as anyone interested in teaching and working with children. Throughout the year the Education Club is involved in a variety of events:
We raise money for educational organizations as well as collect Box Tops for Education, backpacks, school supplies, and new school outfits for students in local schools.
We organize student activity days.  We work with students from Head Start, Elisabeth Amen Nursery School and the public schools in Norton.
We host film screenings and panel discussions to address educational policies.
For more information, visit the club's website.