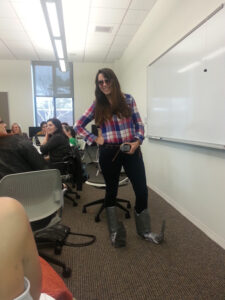 Anthropology classrooms at Wheaton College take many forms. Learning about culture students can expect to be physically transported a world away or learn using new digital technologies.
Anthropology encourages public engagement.
Students from Professor Kerner's Feast and Famine course are featured in an Attleboro Sun Chronicle article working at Norton's Cupboard of Kindness.
Working to combat sexual assault on college campuses, students from Professor Torres and Yllo's Violence against Women course employ social media to engage their community in thinking about positive relationships.
Anthropology tell stories that allow for an understanding of the breath of cultural expression.
Digital Stories are used in our Senior Seminar to begin the process of communicating the essence of their research interests as they prepare to write theses.
Digital Stories are used to communicate the knowledge gained through faculty led study abroad.
Digital Field Scholarship
In the summer of 2013, with the help of a Blended Learning Course Transformation grant, Anthropology 215 (Tanzania: Education and Development) launched a pilot for a digital field scholarship module. Students were each lent an iPad that was loaded with course assignments, readings, and language tapes that they were expected to master before entering the field site in Tanzania. Once they arrived, they used the iPads to capture still and video images, draw maps, record interviews and field notes, and produce site reports and their final project papers.