The college is pleased to partner with CoVerified to make managing your role in maintaining a safe campus environment during COVID-19 easier. Through the CoVerified app or web browser you can complete your daily symptom checker, make testing appointments, change testing appointments, receive test results and track your close contacts.
For more information on how to download the app or access the web browser version, please see the CoVerified Downloads page, instructions for download on Apple devices (pdf) or instructions for download on Android devices (pdf).  Please note that this is a new product and updates are being regularly made. If you are having issues with the app, please try the browser version or try logging in again later. Please email covidtesting@wheatoncollege.edu with any questions.
Once you have downloaded the app, it is easy to use. Click "Get Started" and "Continue" for single sign-in. Log in with your Wheaton email address and password. Accept the Terms and Privacy Policy.
Home Screen
This screen shows your status of Cleared or Restricted. If you click on the text under the status, it will provide additional information on why you are in the status.To return to Home Screen, you can click the checkmark.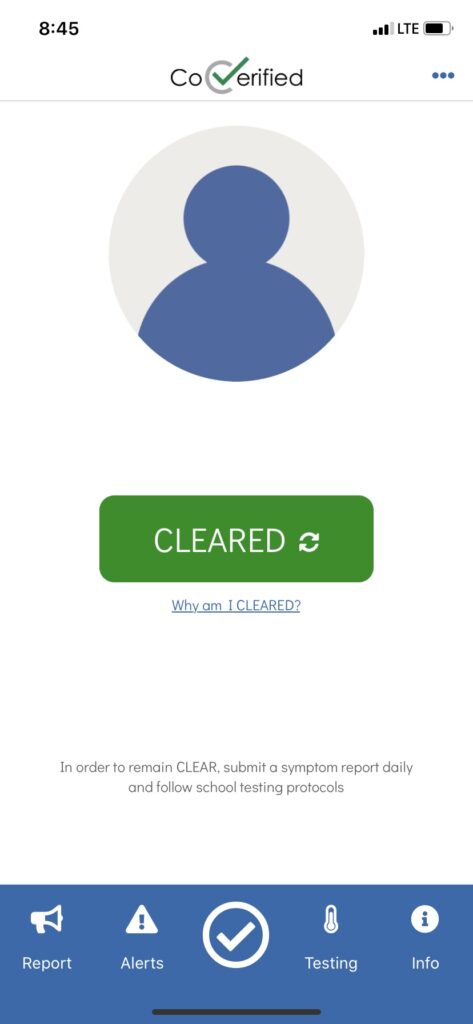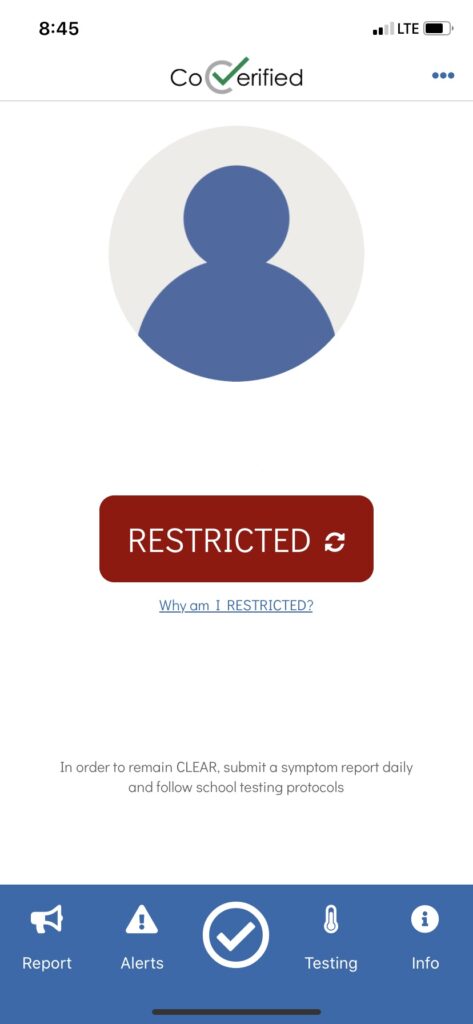 Report
This section allows you to report any daily symptoms. To report new or worsening symptoms, select the "Report" icon from the menu bar, then select "Report Symptoms." In order to remain in a "Cleared" status you must report symptoms daily and be symptom free. If you have symptoms, please do you not leave your residence. Students should contact Norton Medical at 508-286-5400 and faculty and staff should follow up with their primary care physician for next steps and/or if symptoms worsen.
You can also use this section to track your close contacts. As part of the contract tracing efforts, you will be required to provide your close contacts to a contact tracer should you test positive for COVID-19. To note a contact, select the "Report" icon from the bottom of the menu bar and then select "Report Contacts." The college will not use this information should you test positive for COVID-19. It is your responsibility to be aware of your close contacts and report them to the contact tracer. Please refer to the CDC website for the definition of a close contact.
Alerts
The Alerts section provides you with your negative test results. If you have enabled notifications, you will receive a push notification when you have a new result available. It will also appear on the alerts tab. If you test positive for COVID-19, CoVerified will not provide you with your result. Instead, you will receive a call from a medical professional.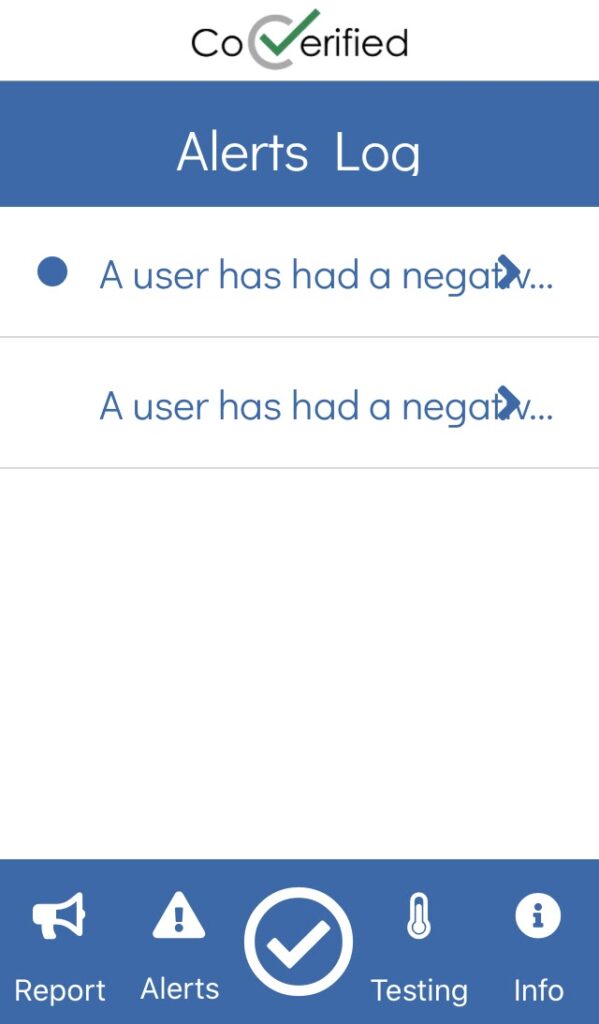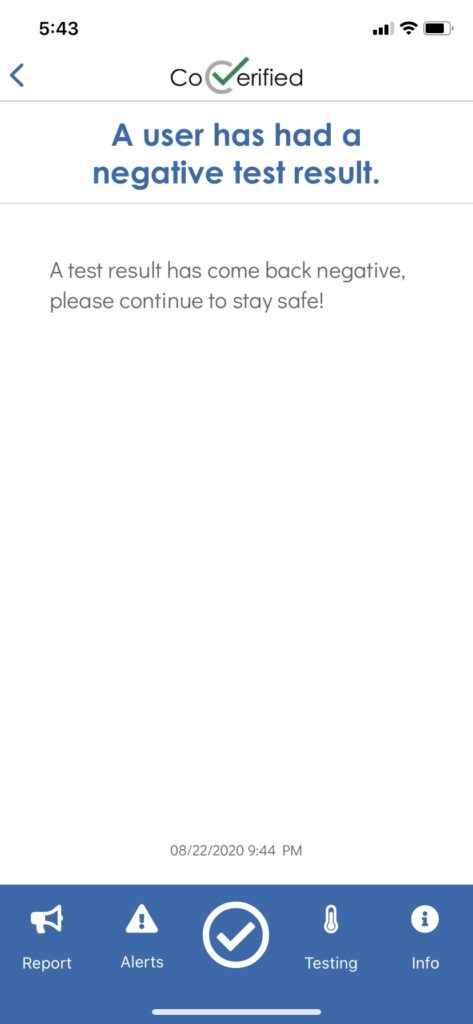 Testing
You can schedule your COVID-19 tests on campus by selecting the "Testing" icon in the menu bar. You must have already reported your daily symptom checker to be able to schedule a test. To schedule a test, select the calendar + icon in the upper right hand corner. Select a Test Date Range to view and click "Continue." Select the Test Location of "Old Town Hall Bookstore" and then select your date and time and click "Book." Your new appointment will then appear on your testing main screen as an "Upcoming scheduled test." A summary of your upcoming testing will appear under the "Testing" icon. You can also review your past test results by clicking the notepad in the upper right-hand corner of the testing tab screen.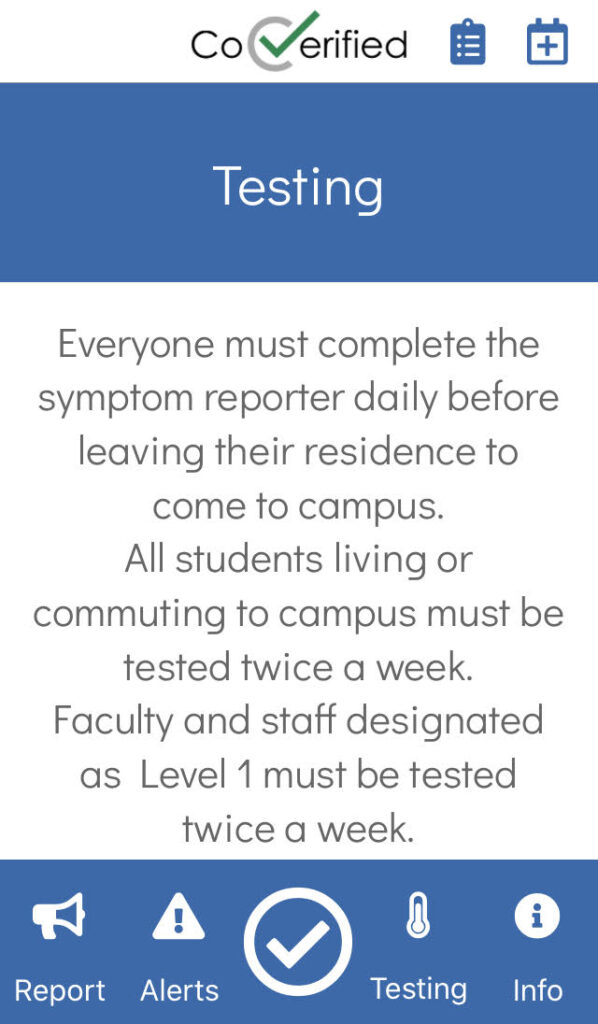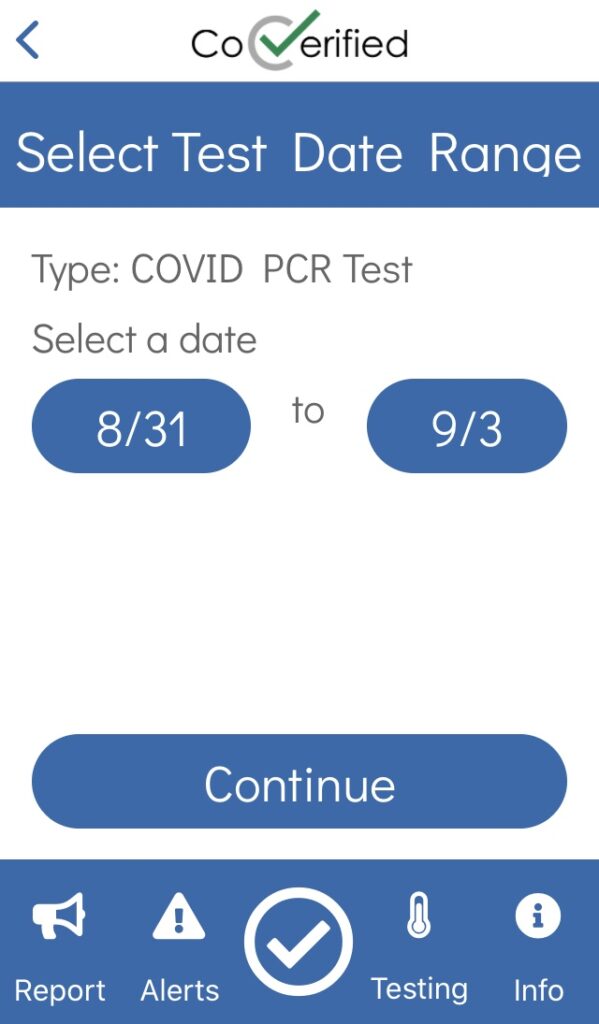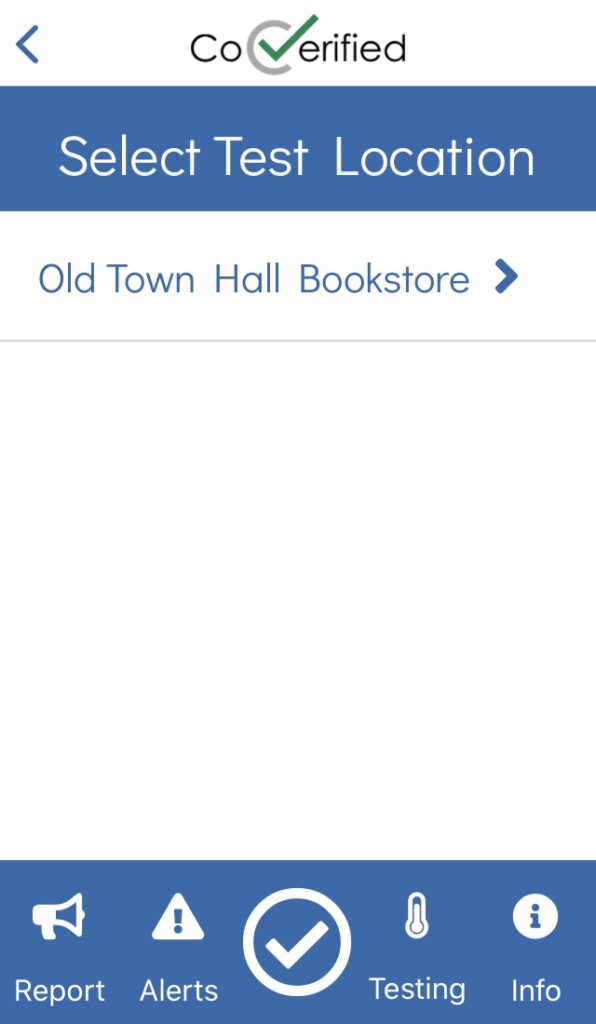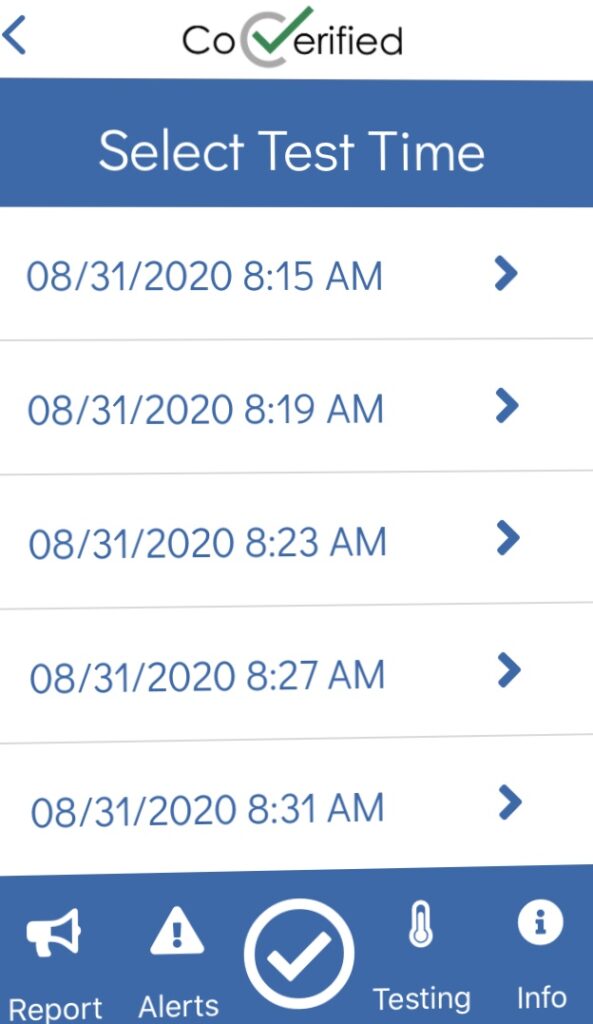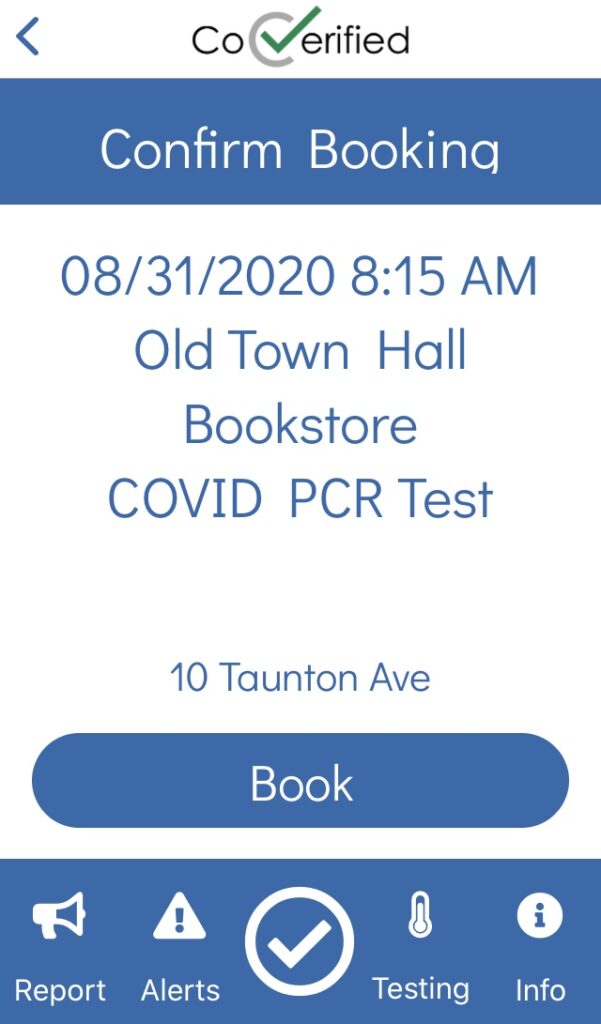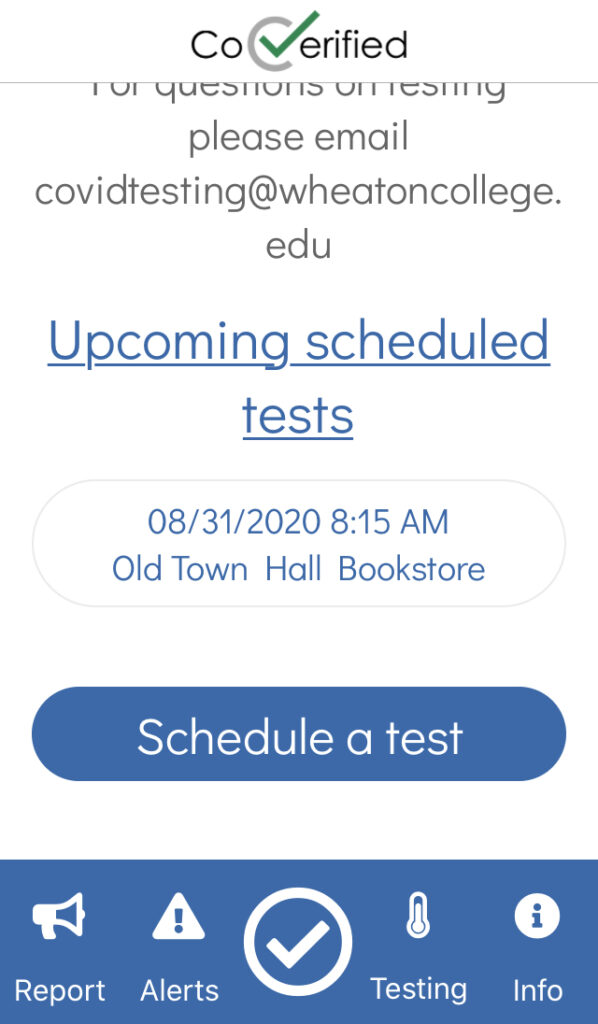 Info
The "Info" icon in the menu bar contains links to college websites with information related to your health and safety.