On this page
---
Symptom Monitoring
We will continue to require all community members on campus to complete and submit a daily symptom check before coming to campus each day.  The symptom check can also be accessed via the CoVerified app. Community members must complete the daily symptom check in order to receive a "cleared" status in the CoVerified app. Please keep in mind that everyone may be asked to show proof of their  "cleared" status to access some spaces or events on campus.  Additionally, we continue to ask all employees and off-campus students to stay home and not come to campus, and for on-campus students to stay in their room, if they are sick or have symptoms. This added precaution minimizes the potential risk of illness or infection to others on campus.
Students who are experiencing symptoms, regardless of vaccination status, should stay in their room, report symptoms in CoVerified, and contact Norton Medical Center to discuss next steps. Employees who are experiencing symptoms, regardless of vaccination status, should consult with their Primary Care Physician (PCP) and get tested if their PCP deems appropriate, and should not return to campus until they are 24 hours symptom-free.
Currently, symptoms known to be associated with COVID-19 include one or more of the following:
Cough
Shortness of breath or difficulty breathing
Fever
Chills
Repeated shaking with chills
Runny nose or new sinus congestion
Muscle pain
Headache
Sore throat
Fatigue
New gastrointestinal (GI) symptoms
New loss of taste or smell
Testing
Testing our community for COVID-19 is a critical component of our safety plan as health experts consistently state that testing is a key part of any strategy to control the spread of the virus. It is important to detect infections before there has been an opportunity for transmission since a large percentage of transmission occurs from people who do not know they are infected. Our testing plan is in partnership with the Broad Institute at Harvard and MIT, one of the leading biomedical labs in the country.
To start the Spring 2022 semester, we will require individual PCR testing twice a week for all campus community members. Testing appointments can be scheduled using the CoVerified App. Additionally, all students will be required to test during the move-in process. Failure to adhere to the testing protocol may result in student conduct actions.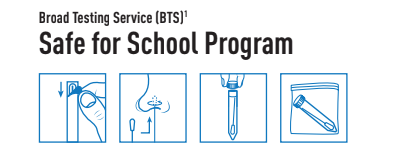 Our testing procedure will require students and employees to have their lower anterior nasal cavities swabbed at our on-campus testing site. This test is relatively non-invasive and can be self-administered. The testing site will be staffed by medical professionals who will also provide other medical support as needed. A contracted courier service will deliver the tests to the Broad lab and we expect to have the results in 24 hours. Individuals who test positive will be contacted by a medical professional with instructions on the next steps.
Please make sure to wear a mask at all times during your arrival and departure from the testing site.
Student COVID-19 Testing Consent Form (pdf)
Employee COVID-19 Testing Consent Form (pdf)
How to Obtain Your Test Results
Contact Tracing
To prioritize the health and safety of our community through the onboarding process, all positive cases will continue to be interviewed by the COVID Testing staff to determine close contacts.  Close contacts are defined by the CDC as another person within 6 feet for more than 15 minutes within the 48 hours prior to their positive test result or symptom onset. The COVID Testing Team will notify these identified close contacts by email. This email will state that the student was identified as a close contact and to complete a Google form to determine the next steps.
Tentative of the conditions during the onboarding process, we plan to discontinue the contact tracing process as of February 1, 2022. This new practice has become the norm for colleges and communities at this stage of the pandemic. The college will continue with testing and isolating positive cases and will expect positive cases to notify their own close contacts.
Medical Support
Norton Medical Center, managed by Sturdy Medical Associates, is the provider for student health needs. Telehealth appointments will be available for our students who are symptomatic and diagnostic testing is available. Students who feel sick should contact Norton Medical Center at 508-285-9500. Doctors are also on call after-hours, on weekends, and during holidays.
The college's testing site will be staffed by medical professionals who will also provide other medical support as needed. Wheaton will also have an on-site nurse on a regular basis to help with the support of students who receive positive test results, are symptomatic, or had close contact with a confirmed positive case and need to be moved into quarantine or isolation housing.