Campus Manager is the College's Network Access Control and Registration system. During registration, which is required each semester for students, computers will be scanned by Campus Manager. In addition, anyone using the WheatonCollege network, must authenticate with Campus Manager. When you first connect your computer to the network jack in your room or the WiFi, you will be required to register/authenticate it with the College's registration system, Campus Manager. We use this system to ensure network-connected computers are in good working condition and don't pose a threat to other computers on the network. Campus Manager also prevents un-authorized users from accessing the Wheaton Network.
Campus Manager will conduct a scan of your computer, which checks for Operating System revision and update levels, the presence of Anti-Virus software, and updated Anti-Virus definitions. If a computer is found to be deficient in any of these areas the computer will fail the scan and the user will be presented with a page outlining the reason(s) for failure. By clicking on the links within the page the user will redirected to a page outlining how to fix the problem (ex. How to run Windows Update to download the latest Operating System patches). After completing the steps outlined in the instructions the user can re-scan their computer to complete registration. If there are multiple reasons for failure (ex Operating System patches AND out-of-date Anti-Virus definitions) then the user is required to fix all problems before they will pass the scan.
If you fail a scan the best advice is to run Operating System and Anti-Virus update software until each indicates they are fully up-to-date (which may require running each two or more times). Then re-scan your computer. Scanning a computer can take several minutes and if your Operating System and Anti-Virus are up-to-date then you should pass the scan and not require a subsequent re-scan.
After you connect you'll be presented with the Campus Manager home page which outlines the College's Acceptable Usage Policy for the network.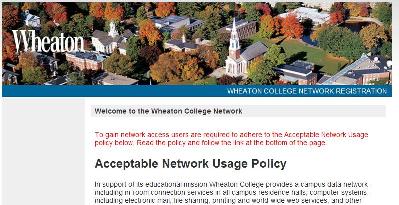 Click on the link at the bottom of the page to accept the AUP.

Below is an image of the registration page with options to register different device types for different users and device types. Select the appropriate link and follow the instructions to complete the registration process. For gaming devices and entertainment devices like Roku and Chromecast click on the Entertainment Devices link. Click Here to go to the Campus Manager home page.