Our new app, Wheaton Mobile, helps students stay connected to Wheaton College (MA). It provides access to many of the great features you'll find on insideWheaton, and more.
Key features include:
• Courses — View your courses with quick access to your course schedule
• Notifications — Personalized announcements alert you to important information right away
• Important numbers — Quickly find contact information to critical campus resources
• Map — Interactive map will help you get to campus, or get around campus
• Directory — Find the faculty, staff, or student and contact them directly from your device
• News — Keep up to date on what's happening on and off campus
• Calendar — Discover new events and activities
More options and services may be offered in the future. Please let us know what you think about the app and how we could develop it in the future!
Supported devices
iPhones and iPads with IOS 7 or later
Android devices running system version 4.0.3 or later
Kindle Fire devices, 2nd and 3rd generation
Where can I get it?
Apple App store
Google Play Store
Who do I contact with problems?
Technology Support at Support@wheatoncollege.edu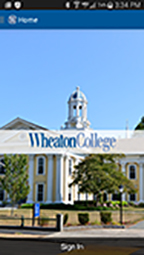 Sign in screen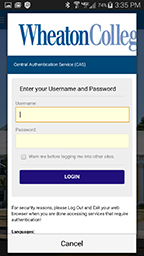 Log in with your w ID number (w12345678) and email password