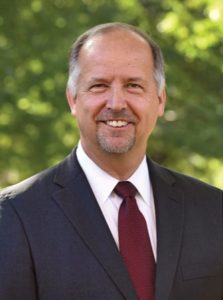 Dennis M. Hanno, a leader in higher education innovation and an expert on social innovation and entrepreneurship, is the eighth president of Wheaton College. He was appointed to the post in February of 2014.
During his tenure, President Hanno has renewed Wheaton's distinctive focus on experiential education in the liberal arts and sciences. The college now guarantees that all students will have the opportunity for a funded internship before the start of their senior year. In addition, the college has expanded its offerings in active learning by launching new programs on social innovation, social entrepreneurship and leadership.
These initiatives arise from a strategic planning process that President Hanno led in 2015, leading to the adoption of a comprehensive strategic plan that calls on the college to prepare students "to create innovative solutions to big challenges—and to act on them." The plan is driving a host of new initiatives to promote student learning and enhance campus life, including a $100 million, 10-year facilities improvement effort.
The college established the Wheaton Innovates Now (WIN) program in 2015. Its offerings include a semester-long seminar that helps students develop and launch businesses and organizations, partnerships with leading start-up incubators and an array of on-campus events. In 2018, the college established an endowed professorship in social entrepreneurship and an endowment for social innovation programs with a transformative $10 million gift from the Diana Davis Spencer Foundation
Wheaton's position as a leader in integrating social innovation into a liberal arts and sciences education reflects President Hanno's expertise in the field. He is the founder and head of IDEA4Africa, and he has two decades of experience educating, mentoring and incubating young entrepreneurs who are solving problems and improving the regional economy. Since 2000, hundreds of college and university students, alumni, staff and professors have traveled with him to sub-Saharan Africa to teach entrepreneurship to high school students, community members, and small business owners.
The college also has established a model program to measure the effectiveness of its educational programs. Wheaton now conducts an annual comprehensive study of graduates' outcomes, which has found a 97 percent success rate for new alumni, six months after graduation, for the past five graduating classes.
Recognized as a higher education leader, President Hanno serves on the board of the Globally Responsible Leadership Initiative, a worldwide network dedicated to developing a next generation of responsible leaders, and he is a commissioner of the New England Association of Schools and Colleges' Commission on Institutions of Higher Education. He also plays an active role in the United Nations Principles of Responsible Management Education (PRME) movement, including contributing to several of its annual forums and publications.
President Hanno came to Wheaton from Babson College, where he held several senior leadership positions, including provost, senior vice president and President's Endowed Professor of Accounting. Previously, he served as the associate dean for Undergraduate Matters in the Isenberg School of Management at the University of Massachusetts Amherst, and on the faculty of Boston College.
President Hanno earned his bachelor's degree in business administration from the University of Notre Dame, his Master of Science degree in accounting from Western New England University, and his Ph.D. in management from the University of Massachusetts Amherst.