WheaLead Forum 2017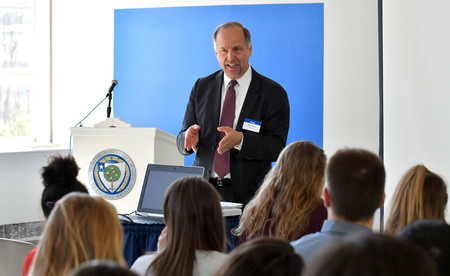 WheaLead: A Forum for High School Students
"From Innovation to Social Impact"
Friday, November 3, 2017
8:30 a.m. –2:30 p.m.
Wheaton College is pleased to announce our 3rd forum for high school student leaders!
As our world faces complex problems, its future leaders will need to be able to think creatively to come up with innovative solutions to provide lasting social change. Your current high school students will see extraordinary challenges throughout their lives, and helping them to develop the skills and tools to create innovative solutions and have a lasting impact.
Through panels led by Wheaton students and faculty, your outstanding leaders will have an opportunity to join with other high school leaders to address some of the critical social topics of the day.  They will engage with like-minded peers, be challenged to think globally and will leave with the knowledge and tools necessary to provide a positive social impact.
Nominations
WheaLead forum is open to student participants from high schools throughout Massachusetts, Rhode Island and Maine.
Participation is limited and students must receive nominations from their school principals or counselors to attend.
We look forward to engaging with your students in this leadership opportunity.
Submit Nomination Form »
(Nominations are closed for the 2017 program)